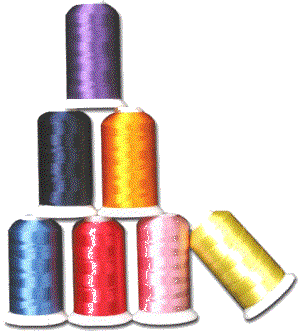 Janome 300e, Compact Flash cards and Reader/Writers
Are you perplexed on how to hook up your Compact Flash card & Reader/Writer to your Janome 300e? Banish your perplexion! (yes, I'm sure that's a word.) Edify yourself with photos and text.
How the Mighty Do Fall
I have a Really Good tale to tell to explain how I came to be entrapped by the machine embroidery world. But, it became Extremely Wordy and was taking up most of the screen space. I know most of you just want to see the machine embroidery projects and don't give a fig about my story ... but if, by some chance you ARE curious, you can still read my Really Good Tale. :-)
Page Content Disclaimer
I need to explicity state *for the record* that I have been exceedingly remiss in keeping notes on my embroidery projects. Most of the projects below were made well before I knew how important such notes would be. The pages for these projects have, in many cases, been created YEARS after the fact and there is just no way, Josť, that I can ever remember or track down where the design files came from.

Soooooo ... lots of these pages are simply going to be eye candy and not much information. I apologize, but that's the way it is. :-)

Tutorials ... at the bottom of the page!
embroidered ribbon labels
When I was making a TON of fleece blankets, I wanted to put some sort of identifying label on it so the recipient would remember that I had made it for them.

I came up with a technique for embroidering the information on ribbons without wasting a lot of expensive stabilizer.

frugal use of stabilizer
You have to hoop the entire hoop with stabilizer eventhough the design is small, right? WRONG!

I've devised a method of reducing the amount of stabilizer you need when the design is small.

Pirate's Home Page
I would love to hear from you via an email ... the link is below! Thanks for looking at my pages. :-)

You can email me at my email address.

[an error occurred while processing this directive]