It was when I was at the Houston Quilt show in November 2004 and I saw the breath-taking Swiss Embroideries from Zundt Designs that could be made on home embroidery machines, that I decided on the spot I had to have such a machine in order to create such exquisite work myself. I love this quilt. I have no idea how to use it, as it is only 44" square, but I knew I had to make it.
From the sample at the Zundt booth, I re-created their quilt in a deeper color palette. Their's was soft pastels and solid fabric; mine was deep toned colors and a coordinating print. Their's had only enough tacking to hold the quilt together; mine is heavily quilted. Their quilt was a pillowcase finish; mine has bound, scalloped edges. (My coordinating print is actually vintage fabric from my oldest aunt. She gave me this yardage many years ago. It became my oldest daughter's dress when she was a toddler (she is now 21 years old!) and was also used as a fabric mat for a Brazilian embroidery piece. The remainder has been used for this quilt.)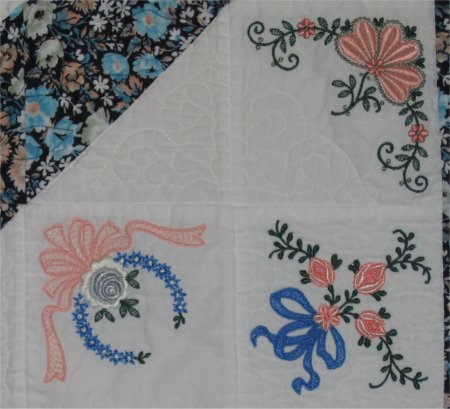 I used 5 of the corner collection designs in 36 embroidered squares. A section of the corner motifs and center motifs can be seen here.
The remaining blocks are half-square triangles made from the white of the embroidered blocks and the coordinating print.
The half-square triangle blocks are arranged in a diamond to set off the embroidered blocks. The final outer border is also of the coordinating print and has a scalloped edge.
I chose not to use a batting with this quilt but opted to use a white fleece.
I was pleasantly surprised and pleased to discover that the fleece gave this quilt a lovely drape as well as displaying the quilting rather nicely.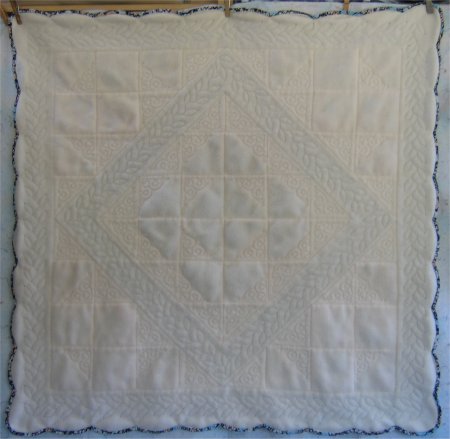 This incredible set is from Zundt Designs and is their Corner Set. These corner designs are one of the few commercial motifs that I have. They are (along with all the other Zundt Designs) drop dead gorgeous.

I pitched this quilt as a class to a local quilt store and was pleased when they accepted my idea. I taught this quilt as two 2-hour classes and have non-embroidered versions as well, for those students who don't have an embroidery machine.

[an error occurred while processing this directive] [an error occurred while processing this directive] [an error occurred while processing this directive] [an error occurred while processing this directive] [an error occurred while processing this directive]