Lace Panel Bowl
December 2005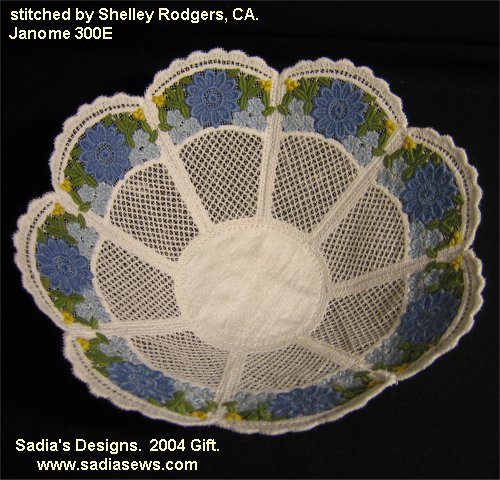 This is a lace panel bowl, a freebie from Sadia Sews. Each wedge-shaped panel took my machine 1 hour to stitch out, but then I was being cautious and stitching at a slower speed.
At this time, I had a VERY meager supply of thread to use, virtually none of the standard trilobal polyester or rayon threads that I now know about. Therefore, I used what I had ... matte cotton thread. Even with this very modest thread, the bowl turned out wonderfully. Sadia is such an exquisite digitizer .... her designs are lovely.
I gave this bowl to my sister-in-law for Christmas .... she was absolutely overwhelmed by it. Like me, she had never seen anything like this before and was very, very impressed that I created it. I didn't let her in on the secret that I just threw some stabilizer and thread at my embroidery machine, sat back and watched the bowl components stitch out! I saw no need to diminish her admiration. :-)
This design can be found at Sadia Sews.