For a while, I was an active participate of embroidery forum of
SewForum
. 'round about 2008 or so, a digiting member, Donna Miller, made a Dresden Plate coaster available to everyone but she didn't provide any instructions. Most designs that are offered don't require instructions but enough participants were asking questions that I felt compelled to take a look.
I tweaked Donna's design and, with her permission, I reposted her design in two versions plus some anally-retentive directions. :-)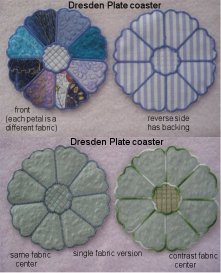 One version uses different fabrics in each of the 8 petals. The other version uses a single fabric and can optionally have a different fabric for the center. If any of you have 5" charms of fabric, this is the *PERFECT* use for them!
The zip file contains the directions in a PDF file, a color layout picture and the 2 embroidery designs in .jef and .pes format. Please be aware that only the .jef format have been tested.
My thanks to Donna for being so gracious about me tweaking her wonderful original design! With her concurrance, I am able to offer the design files plus instructions for you (my faithful readers!) to download for your own use.
I made these coasters for my middle daughter, Lisa to coordinate with some similarly colored placemats that I had sewed for her.