Forrest
December 2005
Our oldest daughter's boyfriend is Forrest. Among his varied traits is the appreciation for a good pun, although he does pretend otherwise. I'm wise to him. :-)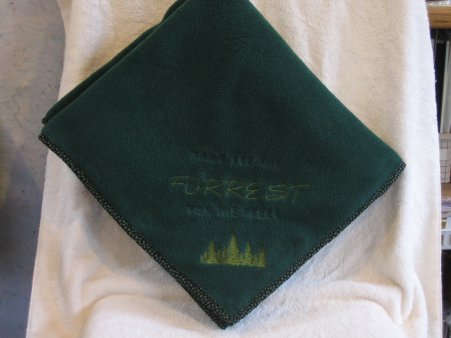 The first obvious pun is the phrase along with his name. If you look at the picture above, you'll see that in a thread color that very closely matches the color of the fleece, I've embroidered "Can't see the" and "for the trees". His name, Forrest, is in a lighter color green so it stands out. From a distance, you might see there was "something" above and below his name but it's not immediately discernable.

The second pun is obligatory forest scene of trees.
The third pun is less obvious ... the color of the fleece itself. And what color would that be? Why ... FORREST GREEN of course. :-)
However, I did experience a disappointment during the making of this blanket. I have always used a wash away fibrous stabilizer as the backing for these blankets. I purchased a different brand than I normally use and used it for this project. Unfortunately, although technically it *is* a wash away, it doesn't dissolve completely as the other brand did. I was very disappointed, as after the first washing, this: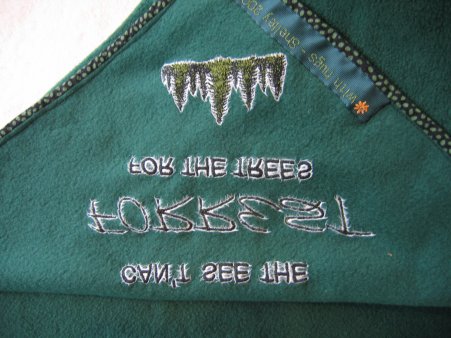 is what remained. I clipped as much as I could but it wasn't what I would have liked for a gift. However, I have been told upon subsequent launderings, the stabilizer *has* become less substantial.