A blanket for Gene
August 2006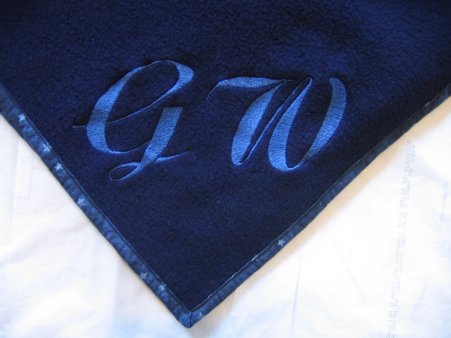 One of my very good friends, Gene, is a wonderful guy .. a gentleman in every sense of the word. Born in Taiwan, he immigrated to Canada with his family when he was a young boy. We "met" through the internet, an IRC chat room about a fantastic sci-fi/military TV show "Space: Above and Beyond", created by Glen Morgan and James Wong. (The X-Files, Millennium.)(It was SAAB's utter bad luck to be picked up by Fox Entertainment, who utterly FAILED in promoting it, so after only one brilliant season, it left the airwaves. A pox upon Fox Entertainment.). Virtually the entire IRC group met in real life for a get-together in Los Angeles in 1996 and many of us have kept our real life friendships, eventhough we are spread throughout the US.
Gene was one of the people that I kept in contact with when the TV show and IRC chat room went dark in 1996. When he moved to the US on a work visa, he became one of the group who already lived in the San Francisco Bay Area. We've all gotten together for social occasions many times since.
Anyway, back to the fleece blanket .. thought I'd never get there, right? :-)
Gene asked if I would do a fleece blanket for him and we commenced to think about what to put on it. While I now forget exactly what his Chinese name means, it does have something to do with majestic mountains. (My excuse is that I am writing this verbage 3 years after the fact and certain details simply escape me.) We put his English initials in one corner (seen above)
and the other corners are ...

I thought that having his Chinese name would be wonderful but Gene said that his writing was next to indecipherable. However, his mother wrote beautifully and during his next visit to his Mom, he had her write his Chinese name. I then digitized it. So, not only is it his Chinese name but it's in his mother's writing! I think I was more excited about it than he was. :-)
A fully embroidered mountain scene to tie back to his Chinese name.

This was the first time I had done such a heavily embroidered design on fleece. My test stitch-outs weren't good ... the design was so stitch-heavy that the final design curled up. I really didn't like that, so I thought about a solution and came up with one.

Using a fibrous, wash-away stabilizer in the hoop, I stitched this design on top of fine bridal tulle. When finished, the tulle and excess stabilizer were cut away and the resultant "free standing" design was then zig-zagged onto the fleece using a very fine micro filament. This worked out wonderfully ... the design is attached to the fleece but sits on top of it.

The last corner was done in an outlined mountain scene
[an error occurred while processing this directive] [an error occurred while processing this directive] [an error occurred while processing this directive] [an error occurred while processing this directive] [an error occurred while processing this directive]