In February, I usually go to a quilting retreat in Arizona. It's a wonderful gathering of quilters from the About.com's Quilting forum and has been going on since 2001. For the past several years, I have made a gift for each of the hostesses in order to show my appreciation for the incredible amount of work they have done to coordinate this retreat and make it such a rousing success.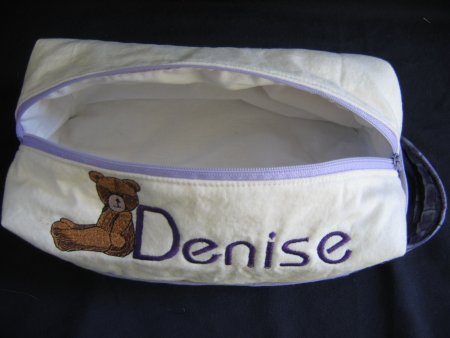 This year, my hostess gift was a small travel/storage/ditty bag that I envisioned being used to stash quilting and sewing implements for easy organization. The bag is a pattern from Craft Gym in San Francisco, CA and is their "All Zipped Up Toiletries Case". I am very saddened to say that their sewing instructions are dismal. In fact, they are worse than dismal; they are incredibly incomprehensible. The bag is great ... it even features a lovely lining and handle, but the directions simply stink. It's a really good thing that I know my way around the sewing machine so that I was able to figure out how to sew the case together simply based on the final picture. On their website, they offer this project as a hands-on class ... perhaps this case would be very simple to make using their instructions AS LONG AS one of their instructors was there with you. But, as a retail product, I can't recommend it at all.
So that I don't forget my hard-won knowledge on constructing this case, I have created a completely new set of instructions for assembly. I don't know at this point if I can legally offer my own version of instructions for their project, so I'm not but ... if you do buy the pattern, BE AWARE that you are going to be frustrated with their directions.
Below, I have listed each of the bags, which alphabet I used and what decorative design I used. Links are available, when possible. There was no rhyme nor reason to which alphabet I used for each hostess; it was just needed to fit the space I had available on the bag and if I liked the effect. The decorative design was usually just something pretty that was of the proper size (or could be modified to fit the space) but in one case, it reflected the hostess's interest and in another it was in reference to an on-going "in" joke. :-)
Warning! I pick up a LOT of freebie designs. The problem with freebies is that the designer doesn't always keep them on the website indefinately. In some cases, the entire web page is gone! This is a very good reason to grab the freebie if you think you might have ANY reason to use it in the future.