Foam Drink Coasters
November 2005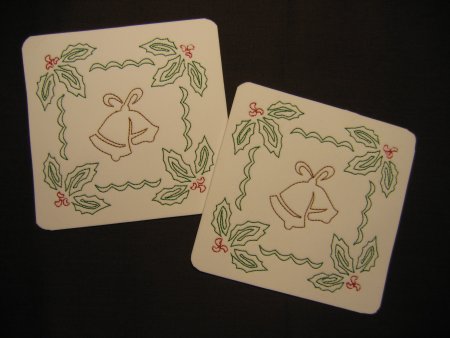 Now here's an interesting concept ... machine embroidering on craft foam!
One of the embroidery forums that I frequent is SewForum.com. They have a Free Embroidery Design cateogory where contributors regularly offer designs of various styles at no charge.
One such design was offered on 11/20/05 by skcreatations and is called "Bell Frame". It was a very lovely filled design. As I looked at it, I thought it would make a really nice drink coaster, but was concerned that the filled motifs would cause the glasses to tip or rock. That would be disastrous. However, if the design was an outline only, that problem would be eliminated.
I brought the design in to Embird (my editor, manager and digitizing software) and used skcreation's design as the template to re-digitize it as an outline only. The result is as you see above. I'm rather pleased with myself, even if this is another relatively simple design to do. I'm still at the very early stages of the learning curve for digitizing so any success is a Red Letter Day for me. :-)
The craft foam is the thin (1/4") stuff, commonly available at many craft and hobby stores. I happened to buy mine at Joann's when they were having a sale. I printed a paper template of the design from Embird and cut the craft foam into squares the size of the template. A sticky back stablizer was hooped; the craft foam square was centered on the stablizer using the paper template and my Janome Clothsetter. The foam itself was NOT hooped, since the foam square fit entirely within the hoop boundaries.