A dear, dear quilting friend of mine is undergoing chemotherapy for a cancer. She has had ongoing health issues, of this is just one. :-(
Her quilting buddies from About.com's Quilting forum decided that we would "shower" her with a LOT of mini-quilts, for a show of support. She has a wide passageway in her house that goes from her living room, past the kitchen, en route to the family room. In this passageway, she has a recessed, buffet-type niche in the wall. After much angst over the color selection, she was finally persuaded by her dear husband to "paint the darned thing red!". This small, recessed area is where she hangs seasonal decorations and wall-hangings. We all knew that she could put several of the mini-quilts in this recessed area at the same time ... and that was what we aimed for.
The guideline was simply a "mini-quilt", no larger than 24" square. We were all apprised of her preferences as to colors and designs. After that, it was up to each individual who wanted to make a mini-quilt to come up with whatever struck their fancy.
I chose a paper-pieced pattern called "Lexa's Angel" from Larkspur Lane Designs and was designed by Susan M. Cook. My final dimensions are 13-1/2" x 15-1/2" (slightly smaller than what the pattern calls for but my brown border fabric was only *that* wide!). I really dislike traditional paper-piecing because it seems backwards to me. And then there's the *additional* "project" of tearing off all the paper that you've stitched through and the mess *that* makes. Yuck. Instead, I used freezer paper-piecing ... a technique where you have ALL the precision of regular paper-piecing but NONE of the mess. (I have tutorial for this here.)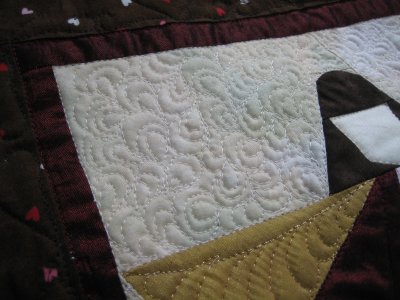 I was so pleased with my success with random clamshells in my String of Pots that I used them in the background for texture.

I quilted feathers in the wings.
Everything else was stabilized with stitch in the ditch.


The brown border fabric was done in Darlene Epps' "45° Wrought Iron" design, which is a zig-zag with curly-Qs at the points.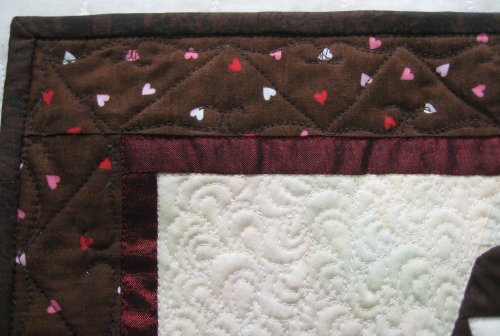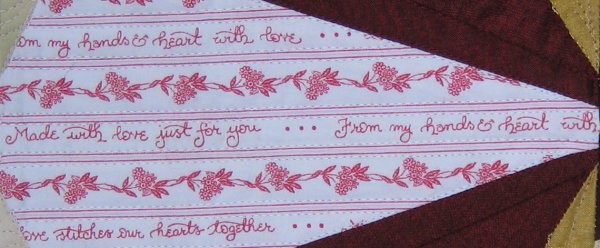 I used a very special fabric for the angel's dress ... it has columns of writing: "Made with love just for you", "From my hands & heart with love" and "love stitches our hearts together".
You might think that's sappy but you'd be wrong: this is so perfectly appropriate for Judy.

For the backing, I used a red hearts on white fabric and machine embroidered a special label.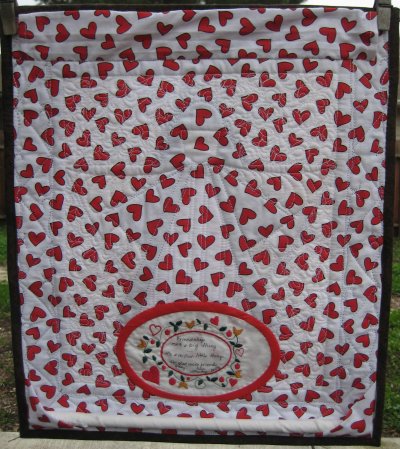 In addition to the hanging sleeve on the back top of the quilt, I also sewed two open triangles at the bottom corners of the back. A rigid dowel was inserted in the open pockets of the triangles to make sure that the mini-quilt will hang straight. Yet, it can be easily removed if the quilt needs to be laundered.

This was quilted with my home machine. I have a LOT of respect for those quilters who quilt on their home machines! The visibility is just a whole lot LESS than on a longarm machine. (duh!). But the control for stitch in the ditch is phenomenal. :-)


[an error occurred while processing this directive] [an error occurred while processing this directive] [an error occurred while processing this directive] [an error occurred while processing this directive] [an error occurred while processing this directive]