Freezer Paper Piecing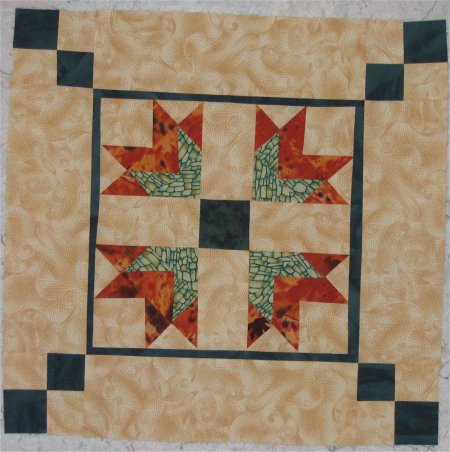 Date made: January 2005
Freezer Paper Piecing
(or Paper Piecing using Freezer Paper)
Shelley Rodgers, pirate_sr@hotmail.com
(c) January 2005
Project Description and Supply List
Description: Do you love the precision of paper piecing quilt blocks? Do you really, really hate tearing the paper away when the stitching is done? How about a technique that combines the best of both worlds .... precision piecing, no removal of the paper foundation afterwards AND you can re-use the paper template? Sounds too good to be true?
In this case, it really is true .. come and learn this technique, popularized by the diva of Mariner Compass construction, Judy Mathieson, who uses this technique exclusively.
This project will teach the construction of one freezer paper pieced block, which when duplicated 3 more times will result in a quilt block suitable for a throw pillow cover or as part of a larger quilt. The block is used by permission from Judy Martin, who offered it as a November 2002 Block-of-the-Month. It is no longer available.
Supply List:
basic quilting supplies
several pieces of freezer paper, each cut to 8-1/2"x 6-1/2" (4 pieces is a good amount)
paper scissors
4 fabrics:


* green (for leaves) - (1) 2-1/2" x WOF strip
* a flower color- (1) 2-1/2" x WOF strip
* center square, accent strip, cornerstone - 1/8 yard
* background, sashing, cornerstone, border - 1/2 yard
This technique is what I call "front end heavy" in that there is a substantial amount of preparation time required to get the freezer paper templates ready for use. However, you only do this preparation once per design and once its done, the actual construction is easy.
I taught this project as a class with great success and enthusiam by all who participated.
There are 3 PDF files for you to download to practice this technique.
the Freezer Paper Piecing instructions file
the Freezer Paper Piecing pattern file
the Freezer Paper Piecing projects file, which shows 3 variations of the block, using different colorways and border treatment
Return to Pirate's Quilt Page

I would love to hear from you via an email ! Thanks for looking at my pages. :-)

[an error occurred while processing this directive]