I really DID have good intentions of working on Lizzie when I finished the "Take 5" teacups & fancy dessert top in August 2010.
Honest.
But when I was putting the top away, I rediscovered a bundle of hand-pieced blocks and component parts leftover from a previous project.

I knew those piece parts would nag me, so I decided to put them into a top.
The inspiration top (at right) was from Jennifer Chiaverini's novel, "The Runaway Quilt".
The blurb for the book says, "Quilts by JenniferChiaverini. UndergroundRailroad. A strippy scrap quilt Sylvia discovers in her attic in The Runaway Quilt. The pattern for "Underground Railroad" appears in my first pattern book, Elm Creek Quilts: Quilt Projects Inspired by the Elm Creek Quilts Novels (C&T Publishing, 2002)."
As you can see, the quilt is simply columns of 4-patches set on-point. The columns with light colored setting triangles have scrappy 4-patches. The columns with dark colored setting triangles have 4-patches with two of the patches being white (or light colored) that form a column of light diamonds.

I didn't buy the pattern book but it's easy enough to replicate. Especially since I already HAVE tons of 4-patch blocks and 3 columns of those blocks are already set on-point. :-)
It doesn't bother me that I am mixing construction methods in this top ... the light background columns are hand-pieced and the dark background columns are machine pieced. Eventually, the top will be machine pieced and the quilt will be machine-quilted. Besides, I have other quilts with these hand-stitched 4-patches that *are* entirely hand-pieced. :-)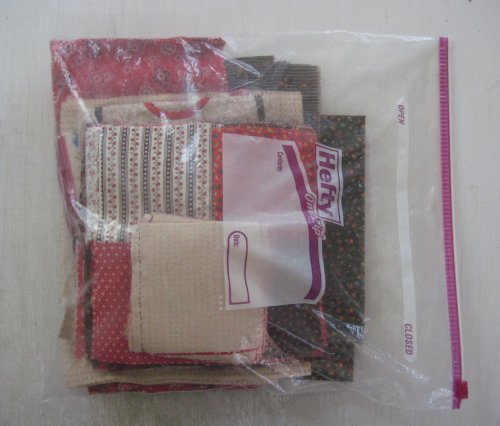 What is discouraging is that when this column quilt top is done, I will STILL have lots of 4-patch blocks leftover!
note: the following description was written 2 years after the the text above, so details are a little vague.
the quilting: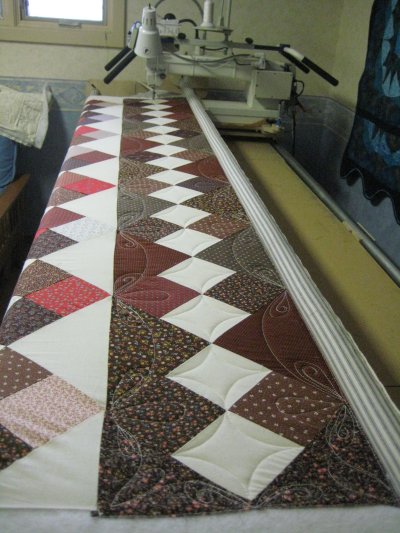 The 4-patches were quilted with a continuous curve.
I'm sure there are many other quilting designs that can be used with patches .. and one of these days I'm actually going to use them! But for this quilt, I went with my old standby.
I use Carla Barrett's continous cuve quilting path so that no matter how many squares are in the patchwork, the quilting path is ALWAYS a single line; there is one start, one stop, which is back at the beginning. (Don't be put off by the feathers at the beginning of that link; the continous curve diagram is further down the page.)
It's an easy design to do and I like the look.

The setting triangles of the columns were a different story. I really had NO idea of what to do. Unfortunately, it shows. I must say that the quilting on this Underground Railroad is quite uninspired.
The light columns got feathers, but for some reason, I decided NOT to do feathers on both sides of the spine. The side that is next to the dark columns is a series of circles and the other side has the feathers. I'm not certain why I wanted to do this or what my original vision had been. Whatever it was, the final result isn't too inspiring. But, it does hold the quilt together. :-)

The dark columns were even less inspired, if that can be believed. Even if you believe "less is more" or that minimalism in quilting is a good thing, the quilting design that I did here is pretty dismal. Even *I* don't like it, aesthetically speaking. I think the best I can say at this point is that it holds the quilt together. :-)

Viewed from a distance ... or at least, not close-up ... I do like the look of the quilt. Sad to say, the quilting choices could have been much, much better.


[an error occurred while processing this directive] [an error occurred while processing this directive] [an error occurred while processing this directive] [an error occurred while processing this directive] [an error occurred while processing this directive]