Return to Pirate's Adventure Page
Ghost Tours of Placerville
May 3 & 4, 2014
Our auto insurance is with AAA. One of the "perks" of that coverage is that we get their monthly magazine, Via. It contains articles of interest to its car-driving members, such as car maintenance and driving safety tips but mostly it's about destinations. We had received the May issue and I was perusing it during breakfast on Friday morning. Living in California, I mostly ignore the destinations for Nevada and Utah but there was a very small (1 line paragraph) mention of an event for the immediate weekend happening in Placerville ..... a ghost tour!
Well, both Tom & I are native Bay Area Californians and we grew up traveling to and visiting the Gold Rush country many times in our respective childhoods and also as adults. Placerville is practically a hop-skip-and-jump away from where we live. The one hour ghost tour is held twice every Friday and Saturday nights. We had nothing going on for the weekend (which was actually the very next day) and An Adventure certainly was conceivable!
When I was looking at the website, Gold Rush Tales, which is the site for the Ghost Tours, I noticed that there was a "Grapes and Graves" tour on Sunday afternoon. After talking with Linda, the owner of the venue, I made reservations for both the Saturday night Ghost Tour and the Sunday afternoon "Grapes & Graves" adventure.
Since the events we were attending were on two adjacent days, we would necessarily need to stay overnight in the vicinity. I looked around the area via the internet and "discovered" American River Resorts. This is a cabin, RV/camper and tent camping site right on the American River. I made reservations for Saturday night ... and we were set! Friday afternoon was spent pulling all of our camping gear and staging it for packing the next day.
Because I have gym classes on both Friday evening and Saturday morning, we needed to wait until I finished them before we could actually leave. (I've been fairly faithful in using the classes offered by the 24 Hour Fitness we belong to. I've established a routine and I am loathe to break it. I know from painful past experience that once the routine of attending classes or going to the gym is broken, it is very difficult to resume; it's best not to break the routine!)
By early Saturday afternoon, we were on the road for the short (2 hour) trip to Coloma, so we could set up camp in the daylight. We ran into a potential roadblock on US 50 between I5 and US99, as CalTrans is doing mega-roadwork on the freeway. But due to the wonders of modern technology, the traffic app on my cell phone showed us an alternate street route that paralleled the freeway but allowed us to bypass the clogged area.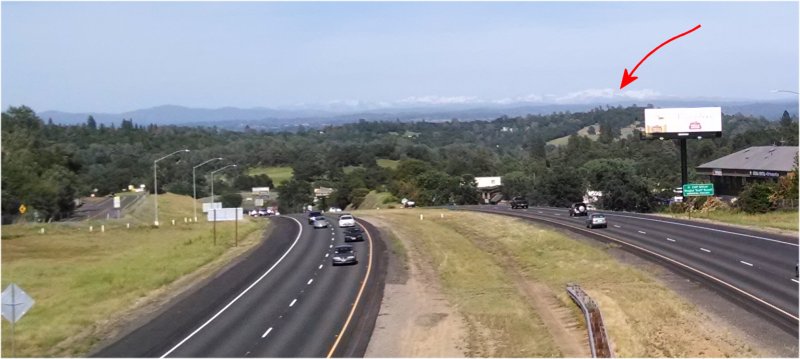 Once the freeway turned eastward, we were facing the mighty Sierra Nevada mountains. We got to the turn-off and crossed over the freeway .... and were greeted by a surprising sight: snow on the tops of the Sierras! Now, honestly, I don't know why I was so surprised, but I was. California hasn't had a very "good" winter in terms of snow pack (and potential water during the summer), as our reservoirs are quite low. The picture of the snow-capped mountains just startled me. In "normal" years, we would have much MORE snow at this time of year.

Once we arrived at American River Resorts, we quickly set up camp.
We were assigned a fantastic campsite overlooking a small rapids. We could HEAR the rapids but couldn't quite see them due to the heavy brush and trees.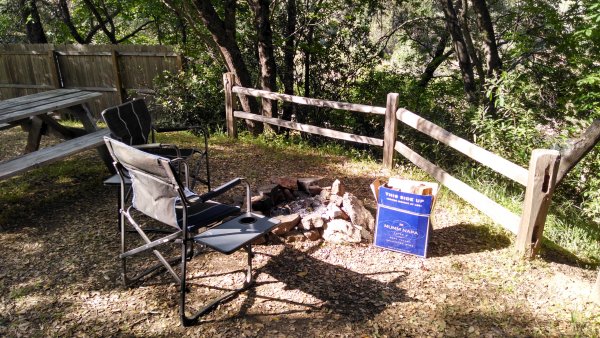 We brought our own firewood for the campfire we would have later that evening.
In packing the firewood at home, we didn't have an available plastic tote, so we pressed an empty case of Mumm's champagne into use. Designed to handle twelve bottles of champagne, weighing 47 pounds, it didn't have any problems with our firewood load.
We don't think our friends at Mumm's will mind the alternative usefulness of their boxes. :-)

If you stood at the firepit and turned 180░, you'd be facing our motel room for the night.
It has all the comfort of home: a double height air mattress, a cozy flannel bed, a chandelier, nightstand, benches for ease of dressing and undressing and even a half-bath. :-)
Yup, we have an electric porta-potti, which has made a world of difference for us. Like an American Express card, we never leave home for camping without it! :-)

After setting up camp, we wandered back down the freeway to Placerville for the evening's entertainment: the Ghost Tour.
Ghost Tours of Placerville [also on Facebook] is run by Linda, a loquacious lady of vast curiosity. Among other vocations, she's a writer. As such, she has done extensive research on the places - residential, commercial, cemeteries - that purport to have ghosts. She has personally interviewed the owners and/or occupants associated with the haunted buildings to document their experiences and with various historical societies, as well as the historical paper records in city hall. She has tracked down historical facts about each of the people who haunt the places in Placerville and surrounding cemeteries. There have also been times when she, personally, has seen ghostly apparitions, felt cold mists and was aware of distinct aromas.
We started the Ghost Tour at the Cozmic Cafe, on the east end of town. In the picture on the left, the Cozmic Cafe is located in the left side of the building. This particular spot was actually a working mine back in the 1850's. Part of the cafe extends back into the old mine shaft and you can actually eat in some of the mining alcoves. Although the owner of the Cozmic Cafe was very definite about not having people enter his cafe in search of ghosts, some employees have told Linda that they have seen misty images in the old mine shaft area, as well as physical experiences in the upstairs bar area.
Linda took a picture of everyone before the tour began .. here is our picture: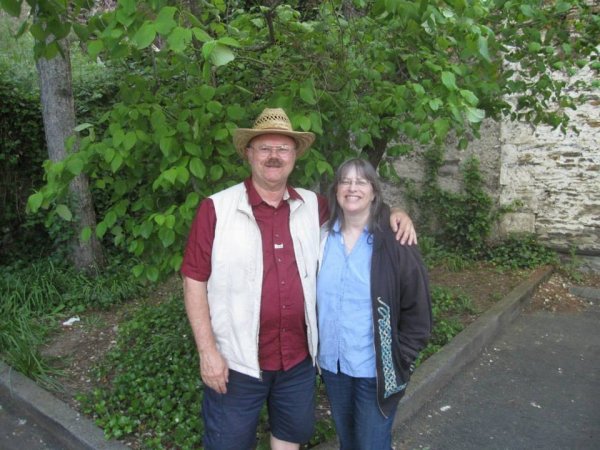 We had a leisurely, half-mile stroll westward down Main Street, stopping occassionally along the way, whenever Linda had a building or spot where ghosts were said to have appeared ... or still appear. Since the time of this tour was after business hours, all of the retail shops were closed, but Linda was quick to let us know which stores were agreeable to having people come in during business hours.
Linda's research, both with historical paper records and interviews with living people, resulted in a fantastic wealth of stories and details. It is just amazing how much Linda was able to remember .. without notes! ... concerning all the different people who came into Placerville at various times.
She was able to piece together where they came from, many times snippets of details from their lives before they arrived in California, which set the stage for their journey here. Many times, she was able to find out why they decided to travel to California, how they ended up in Placerville, their lives in the area and the manner of their death ... which resulted in their auras remaining here, even to this day.
One hour later, we ended the tour at the historic Cary House Hotel, at the western end of town. As only registered guests were allowed inside, we needed to stay outside in order to hear about the ghosts that reside there. All in all, it was a very entertaining evening's event and I thoroughly endorse anyone taking part of the tour.
Once again, Linda took pictures of the group:
At the end of the tour, it was almost dark ... certainly well past our dinner time. I was in the mood for Mexican food and we found a wonderful place to eat at Tortilla Flats. Their portions are not ginormous, but certainly generous ... something that I had forgotten about most restaurants. I really SHOULD have ordered my meal ala carte ... or at least a smaller combination plate .. but the two soft tacos, refried beans and rice were absolutely delicious. Since I was raised to be a card-carrying member of the "Clean Plate Club", I absolutely cleared my plate of everything edible. The 16oz frozen Margarita was wonderful too.
BUT .. (cue ominous music) .. oh. my. gosh. I was SOOOO full. I swear my stomach was on the verge of revolt simply from needing to contain all that food! I could feel the Food Coma setting in. :-) By the way, Tom experienced the same effect with his two enchilada combination plate. :-)
Aside: a small rant is next. As I mentioned earlier, I've been going to the gym. I've also been very conscious of the calorie count of the food I eat. I know that you can absolutely eat restaurant food ... just BE AWARE of the portions! I am also aware I didn't do that for this dinner. BUT ... one Saturday dinner, one Sunday breakfast (scrambled eggs, 2 slices of bacon, 2 pieces of buttered toast and some country potatoes) and HALF of a Chinese dinner on Sunday night should NOT have resulted in a 5 lb gain ... that's FIVE POUNDS ... on Monday morning.

There is *no way, JosÚ* that I consumed 87,5000 calories. [one pound of fat = 3500 calories]. While I'm not flogging myself over the apparent gain, I will admit that it is discouraging. I worked SO HARD to get through that weight number! Now I have to do it *again*. ::sigh:: [end of rant]
Back at camp, we were exceedingly thankful we had set up our gear earlier, as we were in no condition to have done it then. I was all for turning in, even though the evening was still quite early, but Tom really wanted to sit by a campfire. So, I dug down deep ... waaaay down into my reserves of remaining conscious for a while longer. The campfire was lit, the tunes on our cell phone were queued up, a small amount of whiskey-n-water was prepared ... and we were set for the evening!
Our campsite was RIGHT on the American River. Nicely level and shady, the campfire spot overlooked the small rapids. The constant sound of water rippling over the rocks was soothing and everything else was simply dead quiet. I am always mesmerized by the flickering flames of a campfire. It was a lovely way to end the night.
Tom always comments on how well he sleeps when we are camping. We have a great air mattress (aerobed), fantastic boxy, flannel sleeping bags (that are quite ancient but we see no need to replace them) and the sounds of the nighttime, mountain area are conducive to sleeping well. As usual, we did ... in fact, we slept straight through until 10am the next morning! It was so decadently wonderful to be slugs. :-)
Sunday morning started at the break of dawn .. the aforementioned 10am. (Don't you judge us!) Since the check-out time was noon, we set to breaking camp. Once we had done that and pulled out, we were ready for breakfast.
Yes, breakfast at noon. Listen ... breakfast is the FIRST meal of the day .. when you BREAK your FAST. We were certainly doing that. There's nothing that says your first meal of the day is required to be in the A.M. hours. So there. ppphhhhtttt!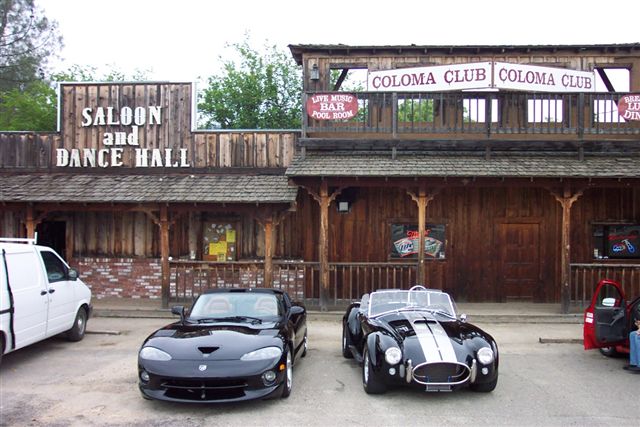 We had previously scouted out possible breakfast venues and settled on the historic Coloma Club.
It looks like it would be a kick-ass sort of place in the evening but for Sunday breakfast it was "normal". :-)

After our satisfying meal, we wandered around Coloma and the Marshal Gold Discovery State Park until it was time for us to make our appearance at the Pioneer Cemetery for our "Grapes and Graves" tour. I really like seeing and exploring old buildings. The stories they must have to tell could be fascinating. Here in California, our "modern" history really doesn't start until 1848/1849 when the Gold Rush started. So, a lot of the "old" buildings only date back to the 1850's ... if they even still exist today.
To be sure, California was settled by the Mexicans and the Catholic friars prior to that, but by and large, except for the missions, there just aren't a whole lot of buildings from that time period, mostly because the buildings were built with adobe bricks. If you don't maintain adobe, they simply disintegrate back into the earth, and that is the fate of many of those Mexican colonial timeframe buildings.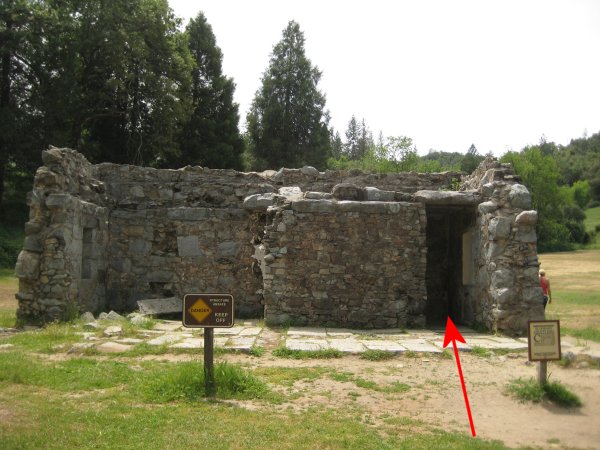 Some of the old stone buildings still exist in Coloma. The El Dorado County Jail was one such building. At the time, this was a substantial stone building.
Coloma's first jail was made of logs and was located around the corner on High Street. The second jail, built in 1855, quickly proved to be too small, and this stone-block prison was erected. It was used from 1857 until 1862.
See the red arrow in the picture? That points to a cell. That cell is tucked back ... waaay back .. into the corner of the building. There are NO WINDOWS in the cell. The only opening is the cell door. The picture below shows Tom standing right where that red arrow is pointing.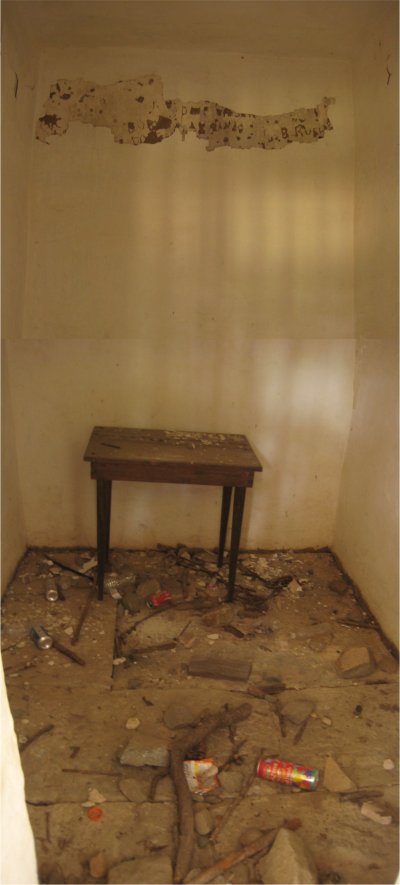 Although these pictures seem to show that there is a lot of light entering this area, let me assure you that is not the case.
This was a very DARK area.
If there wasn't a lantern or candle in the cell, the cell must have been darn near in total darkness. Ick.

Eventually, the time arrived for us to drive to the Pioneer Cemetery. Linda was already waiting for us. Once everyone had assembled, she began her historical tales.
In El Dorado County, a cemetery is a place were six or more bodies are buried. The Pioneer Cemetery has about 600, although not all of the bodies have been rediscovered or their sites identified.
The entire area has the air of disshelvement .. of being unkempt. It's not a private cemetery and for many of the bodies interred here, the families no longer live in the area. It's a little sad, seeing weeds and tombstones with moss growing over the engraved words.

But Linda had more interesting stories for us. She was able to find connections between many of the people buried here. There was even a rather scandolous tale to be told.
At one point, a double hanging took place right at the cemetery and a particular tree was pointed out as being a candidate. (the potential branch is underlined in red)
Linda related of ghostly mists emanating from the ground at times ... when nothing else in in the area. One of the tour's participants is apparently a bona fide Ghost Hunter (although not a ghost buster) and he has several photographs that he had personally taken that appear to show the presence of ghosts in the cemetery over different time frames. He shared these photographs with us, later on at the winery.

Across the road is a former public building called the Vineyard House. In the past it was a hotel and restaurant, although now, it's a private residence. There are a LOT of stories, told by many residents in the area and all documented by Linda, of sad and lurid tales associated with the building.
One website tells a Readers' Digest version.
The current owner is apparently a very private individual and the house is not currently open to the public.

After tromping about the cemetery, we drove to the second part of our tour .. the "Grapes" part. Hart 2 Hart is a fairly new winery. The current owners took it over from being rather derelict and brought it back to life. The tasting room has a lovely ambiance and the wine tasting selection was typical for Gold Country vineyards. The tasting ranged from Pinot Grigio to Viognier to Cabernet and blends. All in all, it was a delightful place to end our day and the weekend's brief Adventure.

---
I would love to hear from you via an email ! Thanks for looking at my pages. :-)
Return to Pirate's Adventure Page
Return to pirate's Home Page [an error occurred while processing this directive]