Way back when in the long-ago time (which would be circa late 1950's/early 1960's), my Mom owned a bronze taffeta dress with a coordinating bronze embroidered taffeta petticoat. I remember her wearing this dress to holiday family occasions. Because it was taffeta, it made that lovely "rustle" sound .. so luxurious! :-) I don't quite remember the specifics of the dress, being that I was so young, but the bronze taffeta stands out.
At some point, my Mom must have given away the dress to a person who needed it more than she did, but for whatever reason, the petticoat remained. I surmise that my Mom couldn't find the petticoat at the time. After my Mom died (in 1998), I took possession of the petticoat. And it remained in my closet all these years because Mr. Pirate certainly doesn't take me to any places that such a fine petticoat deserves to be taken to and, sadly, our holiday family occasions aren't "dress-up" events any longer. [sigh]
Anyway, Lisa & Rene are now involved in social dancing, not that gawdawful mosh-pit, hip-hop stuff, but genuine partner dancing. Doing dances that you need to know the steps to with a partner who knows how to lead properly. They love to get dressed up in wonderful dresses and feel ultra feminine. :-)
Because Rene has been doing the social dancing the longest, I first offered to make her a dress to wear with my Mom's petticoat .. but she demurred ... it wasn't her style. Fair enough; I appreciated her honesty. I sure didn't want to go to the effort of making a dress for the petticoat if she didn't even like it.
Much later on, when Lisa became involved in the same dancing scene, I repeated my offer and was very pleased when she accepted.

I found at Joann's, in the home dec section, some bronze taffeta that EXACTLY matched the color of the petticoat. Not only that, I found it in a plain (smooth) weave, a large-scale pin-tuck and a scrunched-up textured yardage. The large-scale pin-tuck was on the flat-fold table so that it was kinda/sorta a remnant .... it was as much yardage as it was and no more was available. It looked long enough to get a circle skirt out of it, so without knowing definitively if it was enough, I bought it.

Then I looked through my pattern stash. My sewing background is garment sewing and I have a fairly extensive pattern stash. I found the *perfect* dress to make .. a sweetheart neckline and cap sleeves with a full skirt .. not quite full circle, but very full. I remember buying this pattern back when but I was somewhat chagrined to discover that it is now considered "vintage" .. omigoodness, it's only circa 1988!

A jacket/cover-up was also needed, so back into my pattern stash I dove and came up with another ::ahem:: vintage pattern for a bolero-type jacket. This one is circa 1981. [sigh] I remember buying that pattern too; it really doesn't seem *that* long ago. [sigh]

After fitting the pattern on Lisa, I made the skirt out of the large-scale pin-tuck, making it as long as I could, given the fabric that I had. The bodice was made from the smooth weave fabric and the jacket was done in the crinkle texture fabric. I didn't like the way the pattern did the bodice finishing on the inside, so I altered it to be completely lined inside. I also added piping along the waistline seam, not only for looks but to strengthen the seam.
A note about the jacket ... my goodness! Lisa wanted to be sure that she would be warm, so she wanted a "cozy" fabric as the lining. Now, y'all know that a lining is supposed to be slippery so you can easily get your arms in-and-out, but as this was Lisa's jacket, she gets to choose what she wants. And she chose ... flannel. In blue. :-) When the outfit was done, she was pleased as punch with the dress, the jacket and the petticoat. :-)
To complete the 1940's look that she was going for, we tightly curled her hair in small sponge rollers after liberally spritzing her hair with hairspray. (This is a technique I learned from Rene's cheerleading days .. if you want curls that STAY, wet the hair down with hairspray THEN roll in curlers. Those suckers will last until the next century. :-) ) When the curlers were removed, we rolled her hair into a long, continuous roll along the hairline .. or as much as her short hair would allow us to. To our surprise, it turned out amazingly well.

I had Lisa twirl around on the lawn and put the camera in continous-burst mode. Here's she is, twirling around:
one
two
three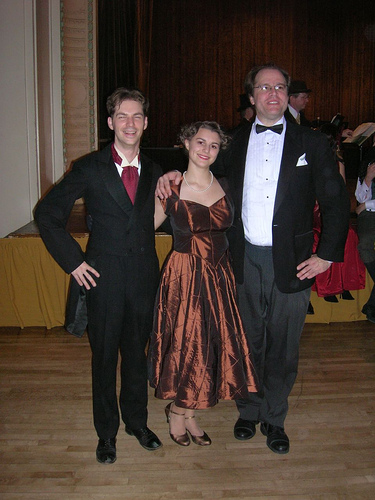 Lisa said the dress twirled beautifully at the dance. She was exceptionally pleased when two ladies came up to her complimented her on the outfit and *took her picture*! woo hoo! :-) Here, Lisa poses with two of her dancing partners.


[an error occurred while processing this directive] [an error occurred while processing this directive] [an error occurred while processing this directive] [an error occurred while processing this directive] [an error occurred while processing this directive]