Rene's Titanic Dress
May 2006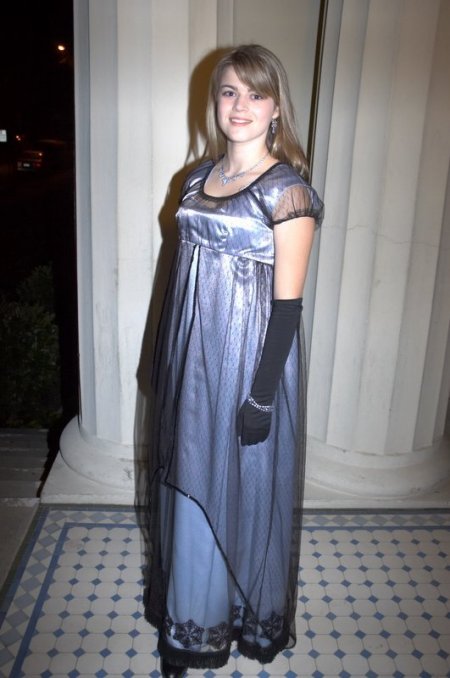 One of the dance organizations that Rene participates in is PEERS (Period Events & Entertainment Re-creation Society). PEERS holds themed dances every other month. This particular event was a Titanic/Edwardian theme. We were lucky enough to find Simplicity 8399 after a LOT of looking around at online resellers because although the pattern was very common when the movie "Titanic" came out, it was no longer in print when we needed it.
The dress is ice blue crepe-back satin overlaid with a layer of black tulle and another layer of black point d' espirit lace. To embellish the hemline of the lace, I machine embroidered 22 snowflake motifs all around the hem. It took a heckuva lotta time as the design was rather stitch-intensive. It wasn't until I was about halfway through that I realized I could significantly decrease the stitch count without adversely affecting the look of the design. This reduced the stitching time by several *hours*. A store-bought black fringe was sewn below the embroidered motifs.
We found some black elbow-length gloves and she wore my Mom's blue moonstone necklace and bracelet as accessories.
When Rene returned home from the dance, she related that the heavy fringe kept catching on the heel of her shoes and eventually the netting ripped. She ended up completely removing the fringe trim, leaving just the embroidery at the bottom. Neither of us realized just how heavy the fringe was or how it would impede the dancing. If I can find a much lighter weight fringe, I'll consider replacing it, but for now Rene is just as happy without any fringe at all.