Smocked Tunic
sometime in the mid-1980's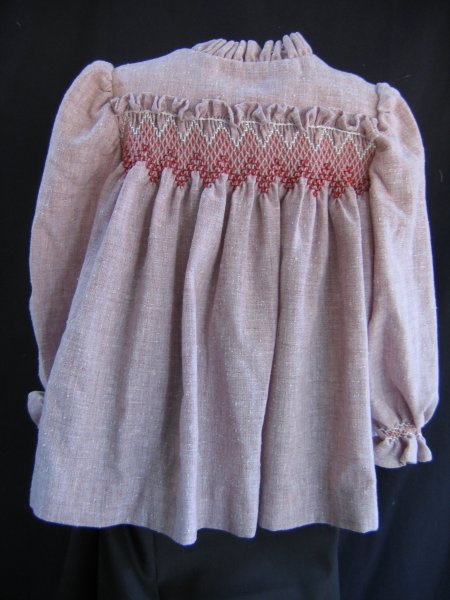 back of tunic
Pattern: unknown, might not even be a "real" pattern. I have vague memories of seeing the garment in a store or catalogue, liking the look of it and copying it.
This tunic is probably about a size 2 or 3 toddler and was designed to be worn over pants/trousers. I'm pretty sure I made a deep plum corduroy pants to go with it but the pants weren't put in the same cedar chest as the tunic.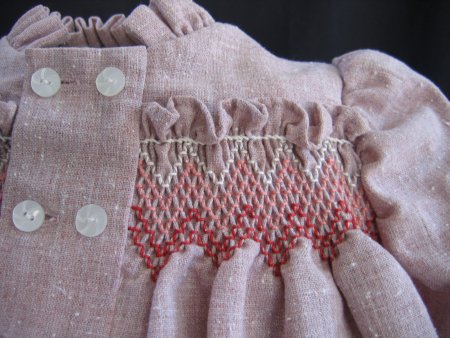 close-up of smocking on front
Description:
stand-up self-ruffle around neckline
"double-breasted" front placket with functional buttons
high yoke
smocked tunic body has a narrow-hemmed self-ruffle at the top where it attaches to the bottom of the high yoke
long sleeves with smocking at wrist, resulting in a ruffled cuff.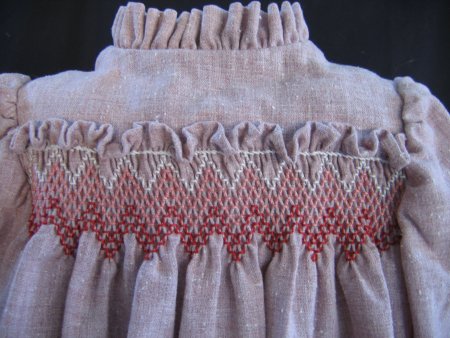 close-up of smocking on back
Smocking pattern: double Van Dyke in 3 colors. Cable stitches at top to control the ruffle where it attaches to the high yoke.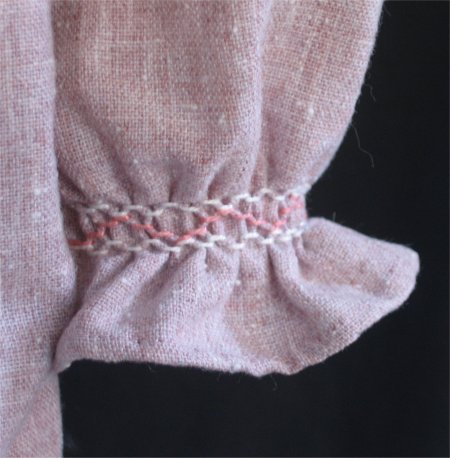 close-up of smocking on cuff

Fabric: now here's a real mystery ... I haven't a clue. It looks sorta like a homespun: a coarse weave with intermittant slubs/tufts.


[an error occurred while processing this directive] [an error occurred while processing this directive] [an error occurred while processing this directive] [an error occurred while processing this directive] [an error occurred while processing this directive]