Mr. Pirate has a cousin. The cousin has an adult son. The adult son is married and he and his wife are expecting .. a baby boy! (For those of you playing at home, this is the wife of Mr. Pirate's first cousin, once removed. :-) ) That means it's time to make a baby quilt!
Baby quilts are the guilty pleasure of my quilting life: they're small, they're quick and they are appreciated. I have collected pictures of interesting layouts that could look good as a baby quilt or pictures of actual baby quilts. I rummage through my pictures when I need to make a baby quilt, looking for whatever strikes my fancy this time.
And this time, it was "Sheep Shape" by Deonn Stott and appeared in the May/June 2014 issue of Quiltmaker magazine. It was *after* I had completed this quilt that I found, quite by accident (you know how that happens when you are surfing the web), a blog post by Deonn, where she talked about a workshop she had done and where the participants had made this quilt. I discovered at that time, that *she* constructed the quilt with half-hexagons, making columns of half-hexagons, which are VERY easy to sew together. *I* didn't realize that and so I made my quilt with whole hexagons, which involved just a whole lotta Y seams. Live and learn. :-)
My goal was to use fabrics that I already had in my stash ... and that does not include pastels. So, my version is has stronger values than the sample but I really, *really*, REALLY did not want to go out and buy more fabric. I used a 3" (along the side) hexagon to make up the quilt. This resulted in a slightly smaller-than-desired hexagon interior, so I added on two slab-o-fabric borders to size it up to a useable baby quilt.
Additional research on the internet yielded an excellent site for the fabric origami hexagons. I also could have looked up the instructions in a book I have "Fantastic Fabric Folding" by Rebecca Wat, but don't ya know, I couldn't FIND it in my library when I was ready to make the fabric origami hexagons! As it usually the case, I eventually found it afterwards.
There are a few textural/3D items that I thought would be SO cute for a baby quilt
the floppy ears and legs. I thought these would be interesting for the baby to fiddle with
the yo-yo's on the sheep's forehead. They are "bumpy" and might feel interesting for young fingers. I securely stitched not only the outer perimeter of the yo-yo but also the inner, gathered up part ... don't want little fingers to be pulling them up!
the fabric origami flowers in the meadow. Again, it was the textural aspect that might be interesting for the baby's fingers to explore
As I cut out the hexagons, trying for a variety of colors within the blues and greens needed, I would slap them up on my design wall so that I could (try to) randomize the color placement. I am truly dismal at random. I really do like structure a whole lot better, so it was with a certain amount of angst that I put a hexagon on the wall, then spent an inordinate amount of time re-arranging them into a "better" placement. At some point, you just gotta step back and tell yourself "Stick a fork in it because it's done!". And so I did. :-)
Once all the hexies were sewn together and the borders attached, it was time for the quilting.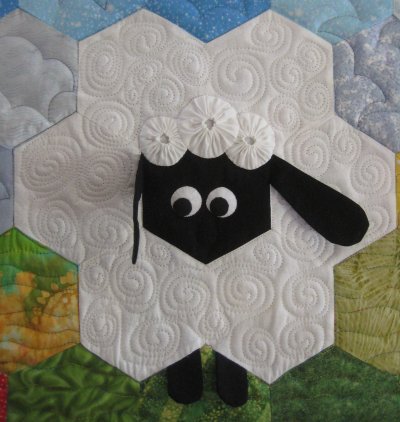 The sheep ... isn't he just terminally cute??
Six white hexagons make up the body and a single black hexagon is the face. He has
yo-yo's on the forehead
two-layer applique eyes
floppy ears and legs
.
I stitched different sized swirls to emulate the fleece.

The sheep stands in a meadow of green grasses. I tried to get a variety of different shades of green and different prints.
The quilting is long, lazy, horizontal, undulating lines.

Here's a detail of the fabric origami flowers.
The base is the red hexagon.
Second layer is an origami hexagon with diamonds in the interior.
The third layer is an origami hexagon that has interlocking folds. The last layer is an appliqued circle to hide the raw edges in the center. :-)
There are appliqued green leaves and a stem made from giant rick-rack.
I stitched in the ditch around the outer and inner hexagons and stitched loops in the red flower. The leaves got stitch in the ditch plus an interior vein.

The sky is various shades of blue; I tried to go for the lighter shades near the "horizon" and the deeper blue shades high overhead.
Using a pantograph as a guide for reference, with a chalk pencil, I drew clouds in the sky. Then, I simply stitched over the chalked lines. I know that if I had tried to create the clouds as I was stitching, they would have turned out very badly. (As the last step of my quilt-making process, I always launder the quilt. I want to remove any accumulated dirt and the washing will also remove any residual chalk lines.)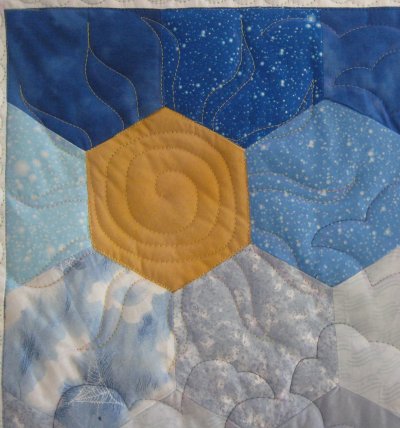 Finally, the sun! This is a single, gold hexagon, quilted with a freefrom spiral. I continue the illusion of the sun by quilting "rays" out into the sky.

I treated the two slab-o-borders as a single unit and quilted undulating feathers in them. Upon reflection, I wonder if this was the best choice ... because the two borders are unequal in width (a specific choice), only the feathers in the solid white fabric really show up. It kinda looks like just bumps. Hmmm.
But I really do love quilting feathers and I allowed my preference for feathers to override my knowledge that the print in the green would hide a lot of the quilting. Yeah ... the green border doesn't show the quilting as well as the solid white. :: shrug :: eh .... it is what it is. I enjoyed the quilting and I know the recipient will appreciate the overall look and overlook the specific faults. :-)
Then came the choice of backing. I *really* want my quilts to be used. I don't make them with the thought of being "heirloom" .. which they most definitely are *not*. My level of detail in construction and quilting is certainly *not* of the heirloom category. Honestly, I wouldn't want to burden anyone with a quilt like that, as beautiful as they may be.
The back of the quilt is a brushed cotton of sorts. It was given to me and came in a long strip. The beauty of plaids is that if you can match it, you can hardly tell where the seam line is! (Actually, when I look closely at it .. and I mean up close and personal .. I can see where I messed up on the matching, but that's my secret. :-) )
I chose this specific fabric because
1) I could use it from my stash
2) it's "boy"
3) it'll hide dirt and/or stains. :-)
Finally, finally ... I made a card to go with the quilt .... a hexagon card (naturally!) with a sheep on it!
Background info: I just bought myself a Scan n Cut 2 and wanted to actually *make* something, rather than just playing around to familiarize myself with its capabilities.
I got the hexagon from the library of on-board shapes, merged 2 of them together to create the "hinged" card.
The sheep was a jpg that I scanned and via the magic of online software (that is part of the Scan n Cut family), I was able to create a cut file from the scanned image. All the different parts of the sheep became different cut files so I could create them from different papers.
The text came from the on-board alphabet. This really is a fantastic machine. :-)

At the baby shower, where I presented the quilt to the mom-to-be, we had been chit-chatting prior to the gifts being opened. The quilt was in a rather flat box ... I had to REALLY stuff the quilt to get it in there! (but, but .. it was the only flat box I had on hand!). The mom-to-be looked at the box ... looked at me .. and with a rather (:: ahem ::) sheepish look on her face, said to me that she really, *really*, REALLY hoped that whatever was in the box was what she was HOPING was in the box because if it wasn't, she was going to be making a very specific request of me! Well, I took that to me that she was really hoping for a quilt .. because that's what I had made for her previous baby and she keeps telling me that she constantly uses it ... so I was pleased about that. THEN, I had an apprehensive second thought: oh my gosh, what if she *wasn't* talking about a quilt????
But, no .. she really WAS talking about a quilt and was SO pleased when she opened the box. I was pleased too.