Earlier this month (December 2012), Mr. Pirate & I attended a musical performance of the
Faux Renwahs
, bluegrass musicians that we like. This performance was held at the
Sutter Creek Theater
in the Gold Rush town of Sutter Creek, CA.
Sutter Creek is about a 2-1/2 hour drive from where we live. We knew that we would not be wanting to drive BACK home after the evening's performance, so we would need to be staying there overnight.
Now, as a matter of fact, Mr. Pirate & I are real cheap frugal people. It annoys us to pay beau coup bucks to sleep someplace. All I really need is a clean,safe place and no cockroaches. I don't need a mint on my pillow. :-)
As it happens, my older brother and wife live only 15 minutes away from Sutter Creek ... in Volcano, a small establishment, up the mountain. Nothing's cheaper than free lodging! :-)
Brother and sister-in-law declined to join us at the musical performance, as bluegrass isn't one of their toe-tapping favorites. Well .. truth to tell, it isn't one of ours, either, but we know the Faux Renwahs (specifically Cactus Bob and Prairie Flower) from the Columbia Diggin's, a Gold Rush re-enactment held the first weekend of June in Columbia, CA. Our youngest daughter participated in the Diggin's for several years (until she went to college and discovered that university work is a LOT HARDER than high school .. and finals were held the Diggin's weekend. School work trumps fun, I'm afraid.)
In fact .. the Diggin's webpage still have pictures of our girls, when they were participating! They are in the blue & white dress and in the green vest. They were part of the saloon entertainment (umm ... we called them "Junior Barroom Floozies" :-) ) with music provided Cactus Bob and Prairie Flower.
So, that's how we know the Faux Renwahs. :-) More information that you ever wanted to know, huh? :-)
Honest .. this really IS going to tie back into those placemats!
Well, the next morning, we were all sitting around the dining room table. My sister-in-law has a beautiful, solid wood table that she puts placemats on. Mr. Pirate noticed that the placemats had seen better days .. they were woven with a self-fringe. The fringe was looking a little frowzy and he felt compelled to get some scissors and give them a "haircut". Not to worry .. it was amusing and my sister-in-law wasn't the least bit offended.
Back at my own house, I realized that this was a PERFECT inspiration for a Christmas present for my sister-in-law! New placemats! Usually, we adults don't exchange presents; we already have everything that we need; we can buy want we want. It's just doggone difficult and somewhat stressful to try to think of what to get someone who doesn't want anything and doesn't need anything. It's simpler to not exchange gifts at all and just enjoy everyone's company.
But THIS brainstorm was just too good to pass up!
At some point in the past, during my surfing of the internet, I came across a nifty pattern by Angie Padilla of Bits 'n' Pieces. The pattern is called "Corner Elegance". You need to be a subscribed member of Angie's website to download the pattern. Now, here's the curious part .. to my knowledge, I am not a subscribed member, but I *do* have the pattern, straight from Angie's site. I'm thinking that she might have offered it as a one-time freebie at some point on her blog and I was able to snag it. If not that, then I have absolutely NO idea how I came by the pattern.
I made 4 placemats for my sister-in-law in colors to coordinate with her decorating scheme. I had acquired a whole bunch of fat quarters that worked nicely with each other. From these 12 fat quarters, I was able to slice off a segment, so that I had a piece of each of them for the placemats. I put the segments together in a random manner, so that each placemat was slightly different from each other.
Angie provides the pattern for the applique pieces also and once I had sewn all the segments together, I had a decision to make ... stitch the appliques BEFORE quilting (i.e. onto an unquilted top)? or wait until I had a quilted placemat and stitch the appliques through the entire sandwich? Each technique had it's advantages and disadvantages.
If I stitched the appliques to the unquilted top, the back of the placemat would look pretty. BUT, I would then need to be careful and work the quilting (whatever I decided to do) around the appliques. I would also need to use some sort of stabilizer on the back of the top so that the machine applique stitching would look nice.
If I stitched the appliques onto the quilted top, the quilting would be very easy to do (no appliques to interrupt me) and the batting itself would provide sufficient stabilization for the applique stitching but the back of the placemats would show the stitching lines. Did I want the back to look like that?
Because this idea occured to me so late in the month, I didn't have time to do hand-applique. I also didn't have time to do any intricate, fancy quilting .. which I might have been tempted to do, had this idea hit me earlier. Eventually, I decided to fuse and zig-zag the applique pieces to the quilted placemats. The allure of having the entire placemat to quilt, unencumbered by the appliques, was too attractive to ignore. I chose a diagonal cross-hatching quilting design, as that was easy *and fast* to complete.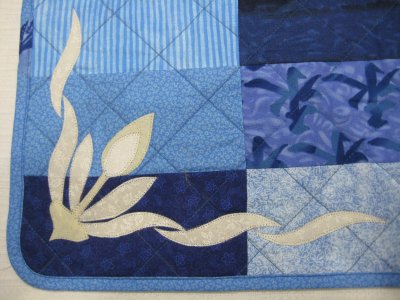 I used monofilament as the top thread for the zig-zag applique. The backing was plain muslin. In fact, this was very much a "what do I have on-hand" sort of project. I had already completed my Christmas shopping (whew!) and really did NOT want venture out any more into the hordes of shoppers. I rediscovered the aforementioned fat quarters from which the placemats were made. The applique pieces required just mere scraps of the off-white fabric. I used cut-off scraps of Warm-n-Natural as the batting ... and I pieced those scraps together when they just weren't big enough. The muslin backings were large cut-offs from previous quilting projects.

I sewed together pieces of the fat quarters into a strip set, so I could make coordinated bias binding. The strip set creates a wonderful diagonal, striped effect, which I particularly like to do on scrappy projects. I chose to round the corners of the placemats, just because it's a little unexpected .. and I like the look. :-)

This placemat pattern .. both the piecing and the applique ... was fast and easy to do. I was able to do all the piecing, applique and quilting in one evening. If I hadn't been interrupted by family events, I would have been able to ALSO make the bias binding and apply the binding that same day. As it was, it took me one evening and one afternoon to completely finish all four placemats.


[an error occurred while processing this directive] [an error occurred while processing this directive] [an error occurred while processing this directive] [an error occurred while processing this directive] [an error occurred while processing this directive]