Some of you guys know (and some may not) that our oldest DD was married this past September 2011 (no, still no photos to look at!).
Now that her main squeeze is an official member of the family, I decided that my new son-in-law (i.e. Dear Son-in-law or DSIL) should have a Christmas stocking hanging from the mantle, along with the rest of us.
Back in 2000, I had made "stained glass" Christmas stockings for the girls, Mr. Pirate & myself. I used the same pattern for DSIL's stocking ... even to the extent of intentionally making it "backwards", as I inadvertently had done for Mr. Pirate. I figured the guys should stick together, yes? :-)
A personality flaw of mine is to make (and admire) atrocious puns. *REALLY* atrocious puns. Our girls have learned to live with it. :-) DSIL is also an admirer of puns and has a flair for punny things himself. DSIL's name is Forrest. This, of course, is fodder for puns, is it not?
And I just can't help myself. He has learned to live with it. :-)
So, for Forrest's new Christmas stocking, I used the idea of the Little Forest Quilt project, eventhough *our* Forrest is by no means little. (He's 6' 2" or thereabouts). I used Eleanor Burn's (from Quilt in a Day) "Triangle in a Square" ruler set to help me make the trees ... the smallest size the ruler set makes was larger than I wanted to, so I adjusted the sizes recommended to get what I needed. Aside: I love, *love*, LOVE this ruler set. It makes creating perfect triangles in a square blocks so incredibly easy.
From green, brown and white scraps, I made 5 Christmas trees and used other white tone-on-tone scraps to fill in the gaps between the tree blocks.
I used a faux trapunto technique for the trees: a square of puffy batting was placed behind each tree and top-stitched in place using water-soluble thread. The excess batting was cut away from the Christmas trees. This left batting ONLY in the Christmas tree area.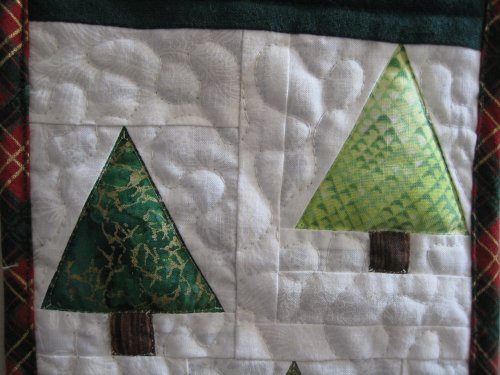 The entire Christmas stocking was then backed with another layer of batting and the stocking was quilted with a stipple/meander.
Doing the white quilting on white fabric (on my domestic machine) was *awful*. The only thing that could have been worse would have been black-on-black quilting.
The extra layer of batting behind the Christmas trees caused them to puff up rather nicely.

The inside is lined with a Christmasy red-green-gold plaid, which was a leftover from another project.

I found, in my scraps, the Most Perfect Fabric for back of the stocking: an entire forest of Christmas trees!! I can't tell you of my delight when I re-discovered this piece of fabric! :-)

The stocking is held together by the binding, which is more of the red-green-gold plaid. Since it's bias binding, the plaid shows up diagonally, which always looks nice to me. :-)

Soooooo .. my new son-in-law has a new Christmas stocking. I'm not telling anyone about it. I'll just hang it up with the rest of the stockings and see who notices. :-)


[an error occurred while processing this directive] [an error occurred while processing this directive] [an error occurred while processing this directive] [an error occurred while processing this directive] [an error occurred while processing this directive]