One of Mr. Pirate's niece's had her baby girl on May 12th .. the proud parents' second child.
Seven months previously (in November 2010), I had purchased a pre-printed panel (at left) (and *tons* of companion prints) from the closeout table at Joann's. This wasn't junky fabric .. it was their regular stock that they were closing out.
Using the coordinating companion prints, I put a pieced border all around the panel and then put it aside. Originally, I had thought to donate it to the local crisis nursery I support, but it came out *so doggone cute* that I decided to keep it for "later". Not that the crisis nursery doesn't warrant "doggone cute" quilts but something was telling me to hold onto this one. (The crisis nursery would subsequently receive other "doggone cute" quilts).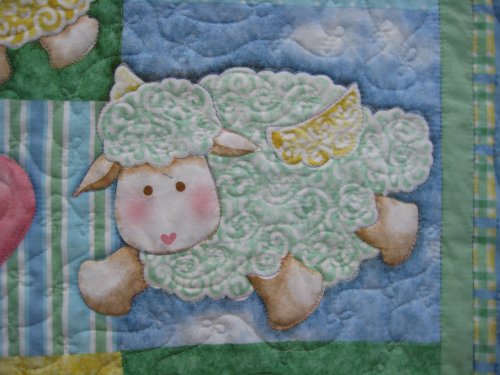 Well, with Madeline's birth in May 2011, "later" arrived. :-) I loaded the top, used Warm & Natural batting and a lovely "velvet" flannel for the backing.
The panel has cute sheep frolicking about ..I did a swirly fill stitch in them to emulate their fleece.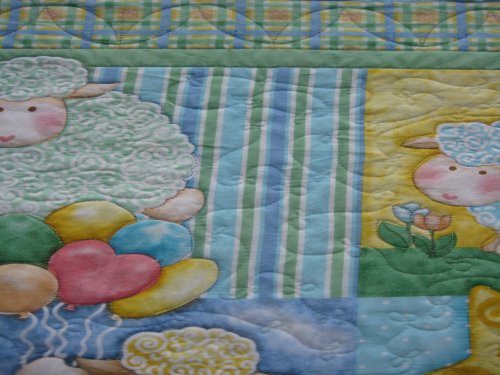 *ALL* the design elements on the panel were outline stitched.
For the background, I did an embellished meander .. this one a "figure 8" meander (from Darlene Epp's "Pocket Guide to Freehanding").
A bit of gushing: some time ago, I bought Darlene Epp's set of Pocket Guides to Freehanding. It's a set of 3 books that guide and teach you all sorts of different quilting designs, from borders/sashings, textures/fills and meandering designs. (Later on, she published another set of books on Feathers, which I also bought). She starts you out with VERY a simple design .. one that ANYONE can do. From that one simple design, she gently guides you onto more variations of varying complexity. Before you know it, you have free-motion quilted some VERY intricate designs ..... and they look TERRIFIC. I can't enthuse wildly enough about how utterly wonderful these books are. They are WELL worth the price. They are an INVESTMENT in your quilting education. They are simply fantastic. They make any quilter of any skill level look magnificent. Not only will you impress anyone who looks at your quilts, but you will impress *yourself*! Run, run, run and buy those books! You will not regret the purchase!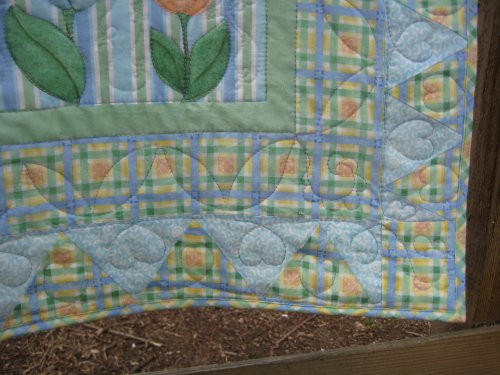 The plain border (part of the panel) got an Orange Peel design.
The pieced sawtooth border (that I added) got hearts in the triangles.
Everything was free motion quilted .. some with templates & rulers.

Then ... in a massive burst of inspiration, I hauled out my embroidery machine and did an embroidered label. This happened to be a freebie that I picked up from Designs by Cuties. Freebie designs are a cr@p shoot ... the ones from established digitizers are usually wonderful; the ones from hobbists are .. well .. you take your chances.
This one is *fantastic*. Beautifully digitized. One of the flower elements is outline stitched. Outline stitching on embroidery machines can be very tricky. Depending on how they are digitized, the fabric you are using, the stabilizer you are using, how taut you hoop your fabric ... all contribute to how the outline stitching turns out. I've had my fair share of horrible outline stitching .. but this design? Gorgeous!
In fact, this design came out *so* wonderfully, that I stitched out several more for future use .. they are just that good.

Because I had done this embroidered label, I didn't use my usual pirate label that identifies me as the quilter and gives some of the backstory for the quilt. So, to partially rectify that, I did a much smaller, hand-lettered label that gives me proper credit. :-)


[an error occurred while processing this directive] [an error occurred while processing this directive] [an error occurred while processing this directive] [an error occurred while processing this directive] [an error occurred while processing this directive]