First thing you will notice .. and if you haven't, I'm pointing it out to you .. there is no binding on the quilt! There is a very good reason for that. ::ahem:: And that reason will be revealed further down the narrative. :-)
In the making of "Gone with the Wind", I was left with a messload of half square triangles in the green/cream fabric and the deep coral fabric. Not wanting to waste them, I found the Carpenter's Wheel on Quilter's Cache used a lot of them.
According to Jinny Beyer's "The Quilter's Album of Blocks & Borders" (which is just about THE definitive, comprehensive, most usable collection of patchwork designs ever assembled), all of the following names refer to the same design: Broken Star, Carpenter's Wheel, Dutch Rose, Octagonal Star, Star and Diamoind, Star within a Star, Unknown Star. The earliest documented name for this block is "Square A", circa 1870. [Which isn't to say that there aren't *other* blocks with those names but might be different layouts. Sometimes, it's very confusing.]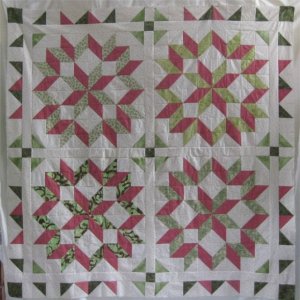 Once all four Carpenter's Wheels were pieced together, I had a lovely SQUARE top. Unless the quilt is a king-size, square tops annoy me. Square tops are not shaped like people. I like my quilts to be appropriate for their intended use and if the quilt is supposed to cover a person, I like it to be shaped like a person .. rectangular! :-)
So, here was a dilemma. HOW to make this square top a rectangle without it screaming like "OH MY GOD ... YOU ADDED A BORDER!"? That was the big question and I never did come up with a good answer. I couldn't use any more half-square triangles because they had all been used up in the Carpenter's Square blocks. Sooooo, the only answer would be to put top & bottom borders on it ... that looked like they had been afterthoughts. Oh well .. such is life.

I looked around and found a swoopy design. I'm sure that's the technical name for it, "swoopy design". I enlarged it to fit half the border, then flipped it so there were 2 symmetrical appliques.
I even attached both appliques with the needleturn technique. I happened to have learned the method taught by Nancy Lee Chong of Pacific Rim Quilt Company, which just exactly suited me! I have tried many, many, many applique methods over the years and Nancy's technique (a front-basted method) simply "clicked" with me. Since learning this techniqued, I've never used any other method for applique.
Although, I did have some ... "interruptions" ... with the applique process. It seems as though one of the resident Quality Control Inspectors was on duty that night.
I was very lucky that I had enough of the background fabric leftover from "Gone With The Wind" to be the background of the top & bottom borders. In fact, if the background of the borders couldn't have been the background of the Carpenter's Wheel blocks, I would never have been able to PUT borders on this quilt, as it would have looked extremely obvious. As it is, it only looks semi-obvious. :-)
After all the piecing and appliquing was done, the top was carefully folded up and put away. I had other projects to work on and this one simply needed to wait its turn. Although ... I will admit right here and now that coming up with a quilting motif for the background that would tie the applique borders and the pieced center together would be a real challenge for me.
In fact, the thought of doing the actual quilting on this top was quite daunting. I was able to put it off for MANY years, as I worked on other quilts and projects. I even managed to quilt a fair number of smaller quilts but this one remained tucked away.
But eventually, I ran out of smaller tops and this one was still on the list. I whined quite a bit on About.com's Quilting Forum, where I regularly hang out. I was told to put on my big girl panties and get on with it. That was actually good advice. :-)

November 2013. The quilting starts. After looking through many pictures on the internet and through a great number of reference materials that I own, I eventually decided on an overall branching scroll for the background to allow the applique to puff up. I have been quite anxious about stitching this motif. To look good, it needs to be random but with an even density. I don't do random well. It was with some trepidation that I plunged in. Ever hear of "white knuckle driving"? Well, this was white knuckle quilting. I needed to consciously remind myself to RELAX and BREATH.
I finished the first pass, across the applique at the top, sweating bullets the entire time and was quite delirious with happiness when I finished that pass. Relieved enough that I let the quilt sit for several months. :-) (Now to be fair, Thanksgiving was coming up and so was Christmas, with all of their accompanying activities. There just wasn't any time for quilting.)
January 2014. However, the longer I waited, the more anxious I became about resuming the work. The next pass involved advancing the quilt, which meant that I was going to be quilting a new row and THAT meant ... would I be able to keep the density the same as the previous row? Not as simple as you might think because the previous row would be all rolled up on the take-up bar. [It NEVER occurred to me that I didn't HAVE to do a full advance. I *could* advance the quilt only part way, so that the previously quilted areas would still be visible. Holy moley! What a concept! How is it that I never realized that before??? :: thunk head on wall ::]
Well, after sufficient nagging from my quilting buddy in Ohio (hiya, Judy!), I resumed. And finished the next pass. Hmmm ... acceptable work. But ... ::sigh:: when I rolled the quilt back to expose the first quilting, I realized that the new stuff *was* quilted slightly more densely than the first pass. Upon reflection, I realized this was because the second pass was done in a smaller area than what was around the applique piece. I had automatically adjusted the size and density of the second pass to compensate for the allowed area. ::shrug:: It is what it is.
What the heck did I decide for the pieced blocks? continuous curves? I know I thought of something else for the interior of the carpenter's wheel. Well, it was kinda/sorta a variation on continuous curves and it worked out well. The continuous curves were done on the inside and outside of the "solid" color pieces.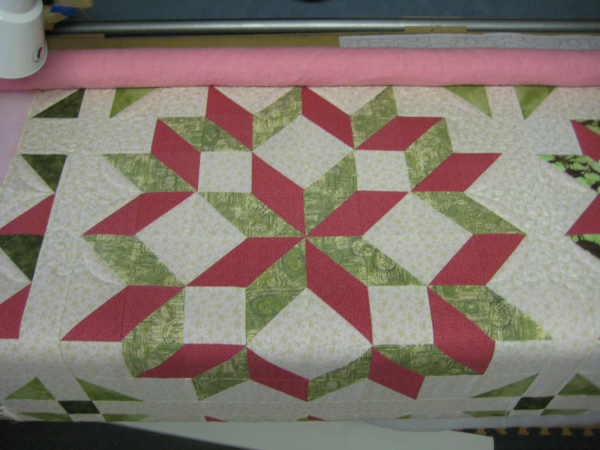 ALTHOUGH, even that simple quilting motif wasn't without its drama. The sheer size of the Carpenter's Wheel block was *too big* for the workspace area on my frame. This meant that I could quilt MOST of the Carpenter's Wheel but then, I'd need to advance the quilt to finish the quilting. I can't tell you how very, very, very annoying that was. Remind me not to piece large designs again.

I did a stitch in the ditch around each of the "solid" color pieces. This really defines the block, as well as providing stability which will allow me to do the background scroll stitching without fear of creating the dreaded tucks on the backing.
Free motion spiral scrolls were done in the squares of the Carpenter's Wheel ... tieing back to the scroll background fill.
Eventually, all the quilting in the Carpenter's Wheels blocks was completed and all that was left was to do the same branching scroll in the background of the bottom border, as was done in the top border. EXCEPT .. the top border was deeply buried on the take-up rail. There was NO WAY I could visually use it as a guage for the size and density of the quilting in the bottom border.
I was really in a tizzy ... but there was nothing to do but to plunge ahead and quilt. Which I did. And it got done! Woo hoo!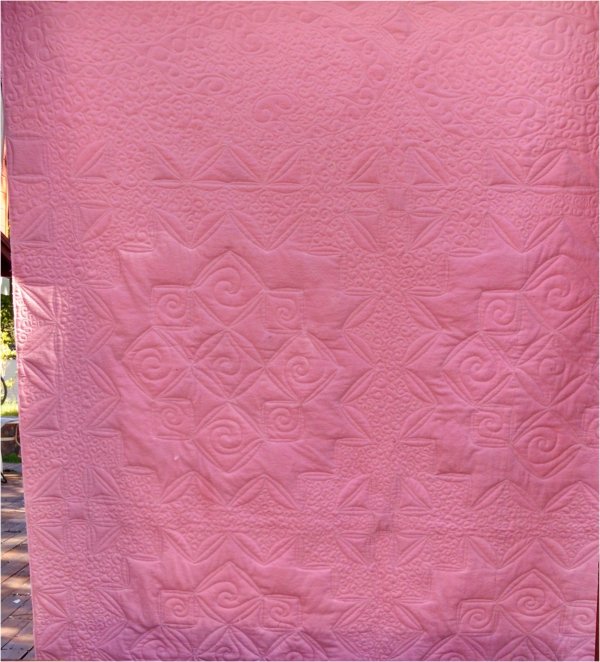 You can see the overall quilting much better from the back. I used a lovely, soft dusty rose flannel for the backing.

Boy, I felt SO RELIEVED when the quilting of this top was completed! Such a long time it waited to be quilted and now it was done!

I quickly made a label for it and went to pull the background fabric that I *knew* I had reserved for the binding. EXCEPT, I couldn't find it. Uh oh. Mild panic time. Where was that piece of background fabric??

I could SO CLEARLY see it in my mind's eye, yet couldn't see WHERE it was in my sewing room. Hmmm. More complaining was done on the Quilting Forum. A suggestion was put forth: might it be that I actually used up the last of the background fabric for the binding of Gone With The Wind?

Oh dear. That would really be a problem. I had always thought to bind this quilt with the background fabric so there wouldn't be a defined stop at the edge. Buying more fabric was out of the question: the background fabric was positively ancient and besides, I didn't have any selvages left to identify the fabric.

Plan B needed to be put into effect for the binding. Except that I didn't have a Plan B. I still don't have a Plan B, which is why the picture at the top of the page shows a quilt without a binding on it.

Fortunately, my favorite youngest daughter is going to be the recipient of this quilt. She lives in California, like us. We are in the general area of San Francisco. We don't get cold winters, although inland, summers can be rather toasty. What this means is that with Spring and Summer fast approaching, my favorite youngest daughter doesn't really require this new quilt. Lord knows she has a LOT of quilts already in her possession!

So, the solution for the problem of What To Use For The Binding is being deferred for a while until I can think of something that is acceptable. :-)


[an error occurred while processing this directive] [an error occurred while processing this directive] [an error occurred while processing this directive] [an error occurred while processing this directive] [an error occurred while processing this directive]