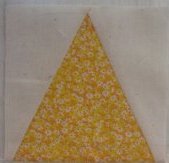 Back in 2010, I rediscovered a specialty ruler: Eleanor Burns' "
Triangle in a Square
". I wondered why I ever bought such a thing. Prior to getting rid of it, I decided to use it.
Well, that was all she wrote. That ruler is the cat's pajamas! It makes a triangle in a square (*not* a Flying Geese block; the proportions are wrong for a Flying Geese) absolutely, positively effortless and ACCURATE.
The ruler combines two rulers, a triangle and a square up, for cutting and trimming the Triangle in a Square patch. I've been informed that *this* patch has also been identified as a "V" block from Deb Tucker or "Spikey and Peak" from Marti Michell and "Peaky and Spike" from Doreen Speckmann .. take your pick! :-)
Dang, but these blocks turned out cute!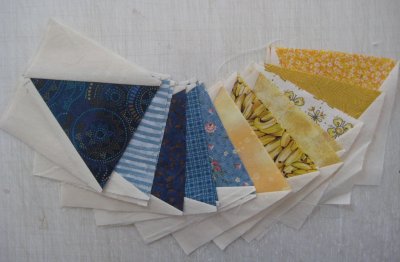 AND they were like potato chips .. there was NO WAY you could stop at just one.
So, I didn't. :-)
I made a messload of them.
More than a messload.
Whatever descriptive word exists for 'more than a messload', that's how many I made. :-)
Then I needed to figure out what to DO with them!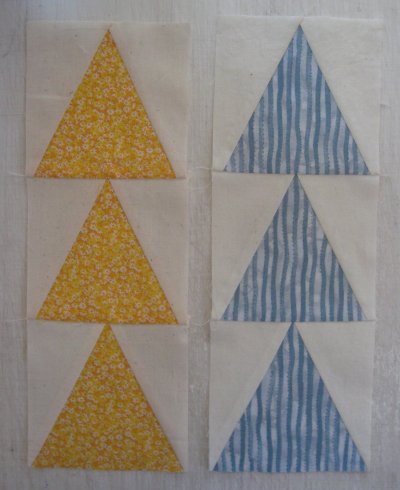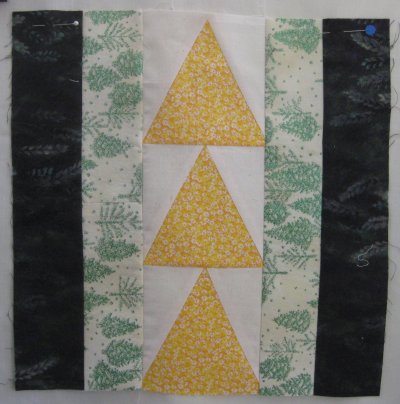 Well, this quilt is one of those ideas.
I sewed 3 triangle-in-a-square blocks vertically, banded them on each long side with a strip of fabric, then banded *that* with a dark fabric.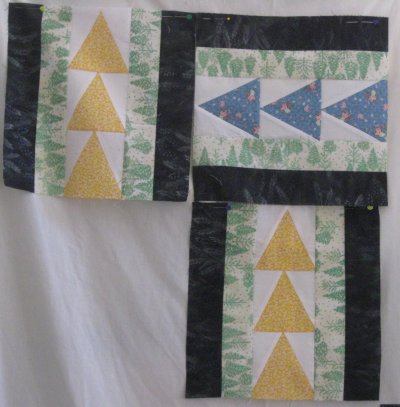 Everything got put together in a Rail Fence layout.

Because I used a Rail Fence layout when I originally pieced the top, I called this top "Rail Fence Trees".
But once I saw the entire top put together, it didn't have the same zig-zaggy design feature of a traditional Rail Fence.
Instead, it rather looked like woven ribbons to me .. so I renamed it. :-)
Then the top got put away for another day.

Well, that 'another day' (2 years later) arrived. Prior to loading the top, I need both batting and a backing. I pieced together large scraps of batting; ditto the backing. I routinely save large scraps of batting, usually cutoffs from previous projects. They are typically too large to throw away without guilt but too small to use on their own.
There is a product on the market that facilitates sewing sections of batting together. I've never used it because well before that product was invented, I had come up with a method on my own.
I cut a 1-inch strip of muslin (we quilters ALWAYS have muslin hanging around), place one edge of a batting section on the muslin strip and basted it in place. If the muslin strip isn't long enough .. no problems. Just overlap another muslin strip on top of the end of the too-short muslin strip and keep on sewing! Then I butt the other batting section up against that edge and baste *that* edge in place. You end up with the muslin holding the two batting sections together. And no added expense of another product. (Not that I am knocking that product ... in fact, I applaud the person who came up with a solution to a problem! .. but I'd rather use what I have on hand and spend my money on something that I don't have and can't make a substitute).
I used to zig-zag the batting to the muslin but found the result was a little bumpy for me; the basting stitches work better.
I place the muslin strip side UP .. against the top .. because I figure that the "bulkiness" of the top .. with all those seam allowances ... will help hide the muslin strips.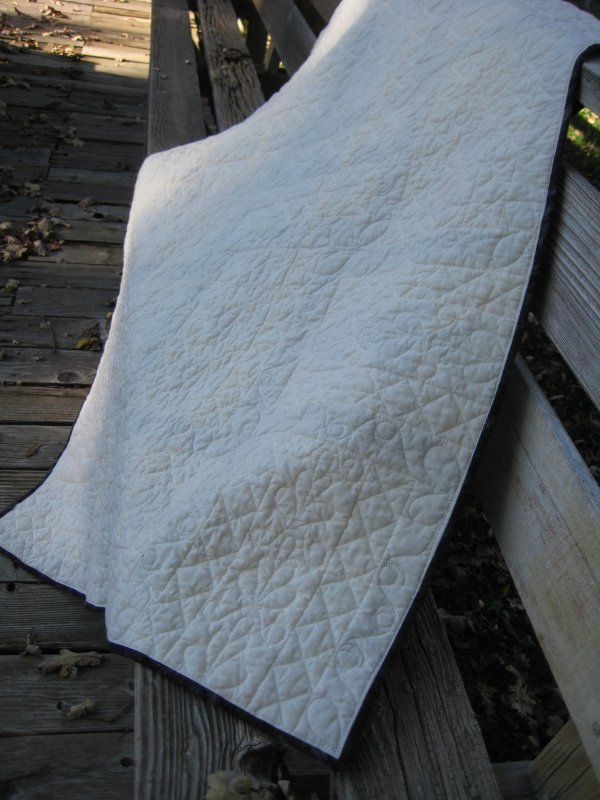 As for the backing .. well, I pieced that one too.
Once again, I save all the large cut-offs from previous projects.
They were pieced together to create the backing.
My one-piece backings are almost always 108" wide muslin, so the cut-offs are pretty wide but not so long.
The resultant pieced backing, therefore, is also all muslin.
But you could do the same thing with regular quilting cotton to make a patchwork backing.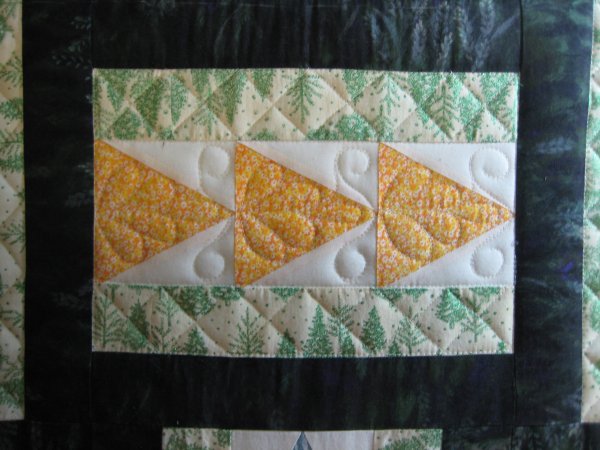 I used Carla Barrett's Continuous Line Quilting for Flying Geese for the triangle-in-a-square.
The fabric bands on the sides get a diagonal cross-hatching.
The best part? The quilting is one continuous path! One start; one stop. Gotta love it.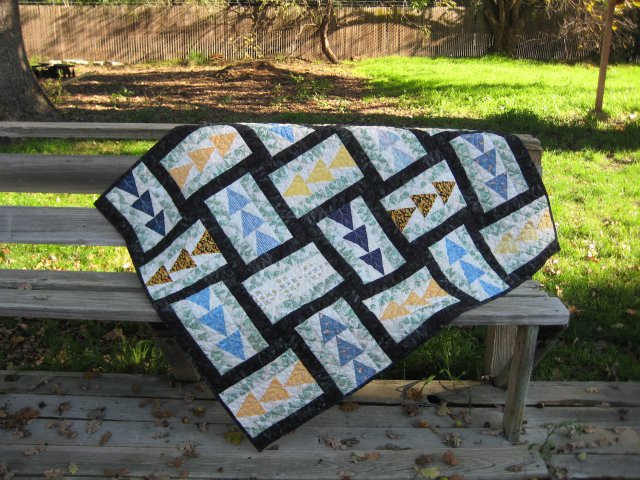 There are 5 such blocks in one row.
It took me 1 hour to quilt those 5 blocks, which means that's 12 minutes/block.
Now, I don't really care how fast/slow I'm quilting but it's a nice curiosity fact to be aware of, as well as a gauge of how much longer I need to be quilting.
At that rate, I figured it would take me FOUR hours to quilt all the rows of triangle-in-a-squares.
But as I continued with the quilting, I obviously became more confident, more efficient and faster because it took me 3-1/2 hours to quilt the ENTIRE quilt. :-)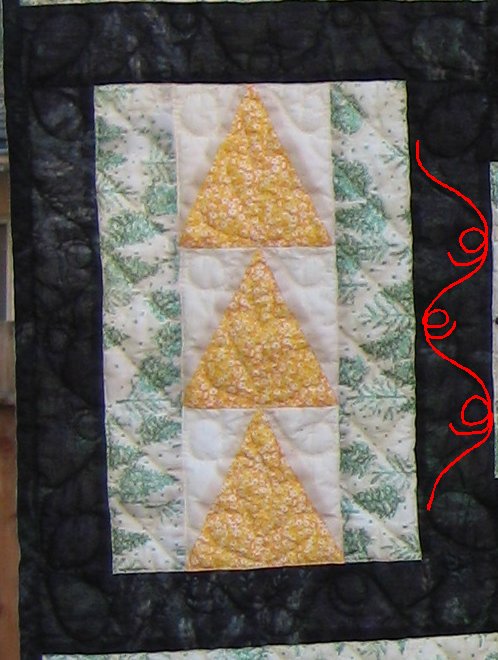 For the dark green frame fabric, I used Carla Barrett's Curly-Swirly border design.
Boy, is it difficult to photograph dark quilting on a dark fabric!
Aside: I love, Love, *LOVE* Carla's quilting designs. She's a fantastic quilter and has the most wonderful tutorials on her website. (heh .. I wish I got compensated for every time I've gushed about Carla's quilting designs. I'm such a fangirl. :-) )

[an error occurred while processing this directive] [an error occurred while processing this directive] [an error occurred while processing this directive] [an error occurred while processing this directive] [an error occurred while processing this directive]