Waaaay back, circa 1999-2000, I attended the Pacific International Quilt Festival (PIQF) in nearby Santa Clara, CA. It's a HUGE quilt show, although not quite as big as Houston or Paducah. I always look forward to attendng it. :-) This particular year, my oldest daughter, Catherine, then 16 years old, came with me. She wasn't particularly interested in quilting or sewing (still isn't ::sigh::) but an Adventure with Mom sounded interesting. :-)
As we wandered through the aisles of vendor booths, one store quilt caught our eye, as it was a HUGE sampler quilt of star blocks done in blue and white. Blue is Catherine's favorite color and she seemed quite enthralled with it. It turned out to be a 15 month Block of the Month, offered by the Stitchin' Post of Sisters, OR. Ever eager to make something for my girls, I told her that if she really liked it, I would subscribe to the BOM and make her the quilt. After some consideration, she agreed that she did like it enough for me to invest the funds. So I did. 15 months at $15/month for a kit of instructions plus fabrics; aren't Moms great? :-)
The kits began to arrive in ziploc baggies, but I didn't start on them right away. You see, 2000 is when we finally finished the overly-long remodel of the back porch of our house. We tore it down and rebuilt it as a 400 square foot room: 200 square foot sewing studio, laundry room/pantry and 150 square foot office. As the kits arrived, I wasn't in a position to do more than admire them. They were filed away in their own container until such a time as I could work on them.
Well, the years intervened and if you look at the Table of Contents on my main Quilting page you'll see that I did a LOT of quilts (and sewing projects and machine embroidery projects). That poor little BOM project kinda got ignored ... but not forgotten! I would occassionally remember that it was hanging around and think that I really ought to work on it ... and that's as far as I would get. :-)
Let's flash forward to 2009. The Rodgers family experienced a high number of family deaths, both expected and unpleasant surprises. It occured to me that ... ya know ... I may really NOT be immortal; I may really NOT have all the time in the world to do all the things that I want. The time had come that I focus on getting those quilting UFOs completed.
So, in November 2009, I hauled out the Star Galaxy BOM collection and verified that they were all there. Then I contacted Catherine (who by this time is now *26* years old) and refreshed her memory about the quilt. She only had a hazy recollection of it but did remember it when I sent her a picture. Furthermore, she STILL liked the layout, so I proceeded.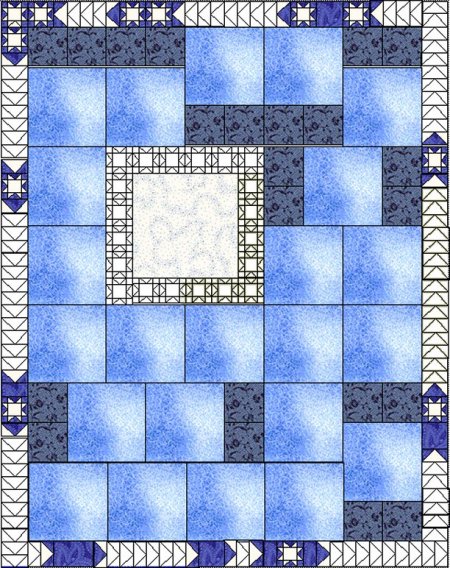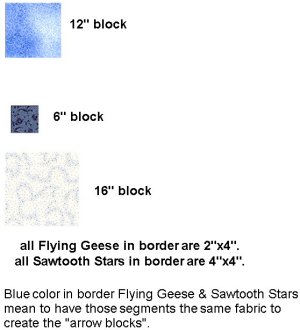 This sampler quilt is very attractively laid out. It is not the standard ... and boring .. grid. These star blocks are varying sizes, from 4" up to 16", and are put together like a jigsaw puzzle ... no sashing at all. Information regarding the schematic on the left can be found on the picture to the right.
Each kit contained the fabric selection for that month's blocks and general instructions for cutting. Since these fabrics were 10 years old, there was no possibility of getting replacements if I messed up the cutting. I knew what kind of stars I would be making and what size pieces to cut of which fabrics for each star BUT there was no specific cutting layout. Instead, it was stressed that we (the quilters) be "conservative" in our cutting; that there was sufficient fabric to make the blocks for that month's kit plus extra fabric to make some for the Flying Geese in the borders but we would need to be careful about the cutting. So, I stressed over that. As it turned out, with my extremely conservative cutting, I did have some substantial chunks leftover.
The blocks themselves were fairly easy to construct. They were all straight-forward, geometric blocks and generally speaking, I was able to get one kit done in a day. Due to the holidays intervening, it wasn't until January 2010 that all the blocks were completed and sewn together. There was one remaining "customization": Catherine was able to be with us over Christmas and she really liked the quilt top in person. However, as provided by the kit, the top finished at 68"x86", which is more-or-less a twin size. As Catherine has a queen size bed, and this twin size top would *exactly* fit the top of her mattress. We decided to put on contrasting side drops, which would allow the top to stay on the bed and accommodate any tossing and turning. With the side drops, the top now measured 86"x98", which is more-or-less a queen size. :-) I love solutions. :-)
Catherine has consistently mentioned that she likes "poofy" quilts but further conversation narrowed that down to what she really liked was quilts that "draped". Her previous experinence was with commerical *comforters*, which are very poofy and very minimally quilting (which is why they "drape" nicely). Having established that it was the drapeyness (is that a word? It is now.) that she liked and not necessarily the "poof", I decided to experiement with wool batting. I had heard that wool was wonderful for being warm yet lightweight but not overly warm in the summer. It would be perfect for Seattle weather. :-)
I called a local quilt store for a king size wool batt, they had it in stock; woo hoo! When I showed up at the store, however it wasn't. :-( They did have other sizes, but I needed a king. They offered to placed an order for me and I agreed. I offered to pay for it in full; they declined. I offered a down payment; they declined. I kinda figured that since this was something they regularly had in stock, this order wouldn't take very long. I eagerly anticipated its arrival. I didn't ask how long it would take and they didn't say anything either. In the interim, assuming it was going to be arriving "soon", I loaded the queen sized backing onto Lizzie.
About 1-1/2 weeks later, called for an update and was told it hadn't arrived yet. At this point, I asked for an estimate for an arrival. Now maybe the store clerk had something else going on at the time but my impression was that she was rather annoyed with my call and my wanting information. She said that she wasn't sure when it would arrive and *that was that*. I wasn't a happy camper. I had other quilt tops waiting to be loaded, but the backing for *this* quilt was already on Lizzie. Loading a big backing is very time consuming and I did NOT want to remove it. hmph.
At this point, I complained to my online quilting friends. I wanted to get on with the quilting part! One friend works at the Quilter's Bee in Phoeniz, AZ. She said that they have wool batting on rolls and she could probably get it to me faster than my local store could. I was willing to have her ship the wool batt (and a silk batt, too, as it turned out) to me. It arrived 3 days later. :-) Boy, was I happy camper! Side note: at this writing of 2/1/10, my local quilt store still has NOT called to say the order has arrived and it is now a FULL MONTH since I "ordered" it. I am disinclined to ever order anything through them again.
I was now able to load the batt and the quilt top onto Lizzie ... and away we quilted! I used variegated King Tut on the top and Superior's Bottom Line on the backing. I'm so pleased with Lizzie .. her tension is just perfect and she quilts so nicely!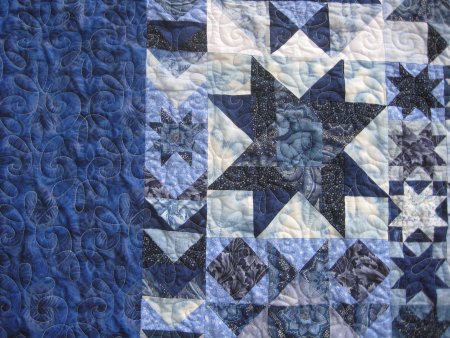 Because the star block portion of the quilt was so incredibly busy, I was intimidated with any sort of custom quilting designs. There didn't seem to be enough blank space anywhere to show off fancy quilting. And if you weren't going to be able to see and appreciate custom quilting, why do it?? With that thought process, I suggested to Catherine that an edge-to-edge pantograph might be the way to go on this quilt. She agreed and we chose the pattern "Chantilly Lace", which is an interlocked loopy design. I thought this would contast nicely with the strict geometric lines of the blocks. It would add texture without detracting from the pieced blocks.
It didn't occur to me until much, MUCH later that I *could* have done the Chantilly Lace on the star blocks ONLY and done some fancy quilting in the side drops. :-( Oh well ... hindsight is 20/20, isn't it? I wasn't enthused at all about ripping out all the quilting in the side drops in order to re-quilt it ... so I didn't. The entire quilt was done in Chantilly Lace.

The backing is a medium-dark tone on tone blue floral print from Joann's. I knew they carried 108" wide backing fabric and I wasn't disappointed! It is *so* nice to use unseamed fabric for the backing! The small white square you see in the corner is the "Care Instructions". Since this quilt had a wool batt and shouldn't be washed/dried in hot water/hot dryer, I put a reminder for Catherine on the back.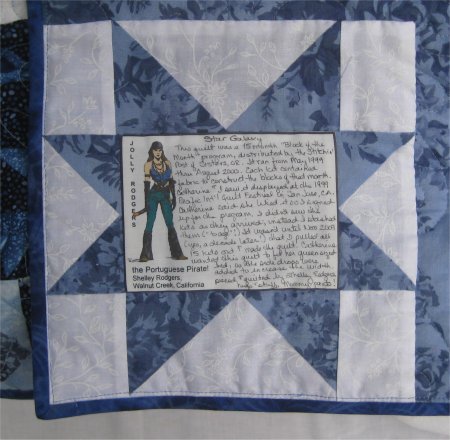 I used some of the leftover fabric chunks to make a star block in which I inserted my label. :-)

And, as usual, one of the resident Quilt Inspectors was on duty during the binding process.


This quilt has been entered in the Blogger's Quilt Festival - Spring 2010,
hosted by Amy's Creative Side

.

[an error occurred while processing this directive] [an error occurred while processing this directive] [an error occurred while processing this directive] [an error occurred while processing this directive] [an error occurred while processing this directive]