You might have read about the Kyoto quilt that I have previously made. Quilter's World magazine offered, as a web special, the directions to make a pillow with the same design. (That link is for the freely, downloadable directions as a PDF.)
Youngest Dear Daughter, Rene, has a very good dancing friend, Laurie. Laurie is a tiny bit older than Rene and is a most delightful person. She makes custom corsets and historic/vintage clothing ... and probably has forgotten more about sewing than I will ever know. (You have GOT to see her blog, Daze of Laur. Check out the links on the right side of the page, particularly the "Ladieswear". Laurie MADE ALL THOSE OUTFITS. If you look at her corsetry pictures from the link on the right hand side (Corsetry) .. yes, you'll see Rene modeling some of them. :-) No, they are not "R" rated. :-) Her other gallery pictures are equally as jaw-dropping fantastic. If you ever need historically accurate clothing and don't want to make it yourself, Laurie is THE person to sew for you. )
Anyway, Laurie is, as I mentioned, a truly lovely person. And she happens to like My Little Ponies .. and rubber duckies ... although not necessarily in the same toy. :-)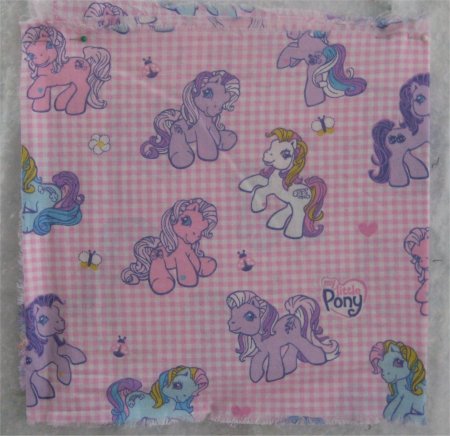 It just so happened that as I was rummaging through my stash, looking for something else, I rediscovered 12" selvage inches of My Little Pony fabric that I had bought for a long-abandoned project. 12" isn't much to work with but I figured I could think of something to make for Laurie. I decided that since I liked the Kyoto pattern so much as a quilt, I would use it again for a pillow.
I fussy cut all the Ponies that I could and used them in many of the focus fabric squares. Light blue fabric with hot-pressed foil stars and a pink tone-on-tone floral were the companion fabrics to round out the selection for the squares. The border fabric was pink tone-on-tone linear design.
The backing was black fleece.
The piping was bias strips leftover from another project: black background with blue, pink and purple flowers ... *EXACTLY* the colors used in the My Little Pony fabric! I couldn't have found a better fabric if I had manufactured it myself!
The very best part was that all the fabric used to make the pillow came from my stash! woo hoo! The big bucks expense was the pillow insert, but I even got that 1/2 off, as Joann's was having a sale.
A zipper is at the bottom of the pillow cover to facilitate removal for laundering.

I was able to find a My Little Pony machine embroidered design at Designs by SCK. This site has some very cute and wonderful designs *and* allows you to buy them singly, as well as in sets. Since I only wanted one design, this worked out perfectly for me. The design is embroidered on the fleece, towards the bottom of the pillow.

It occurred to me, after the fact, that I really should have quilted the pillow top, like a mini-quilt. Ah well, it turned out mostly good. :-)


[an error occurred while processing this directive] [an error occurred while processing this directive] [an error occurred while processing this directive] [an error occurred while processing this directive] [an error occurred while processing this directive]