Even after making at least 3 quilts from my stash of flannel leftover from garments, I still had MORE. Anyone know of a flannel contraceptive?
The August 2008 issue of McCall's Quilting featured a really nice scrappy quilt called "Summer at Mom's". Their's was done in cottons, while mine is another cozy flannel memory quilt. I exchanged the half-square triangle sawtooth border shown on the pattern for a freezer paper-pieced dogtooth border but otherwise followed the pattern more or less exactly (my vines & leaves weren't precisely the same either) and am very pleased with the resultant 58" x 76" oversized throw. Generally speaking, I like the look of dogtooth borders versus sawtooth borders.
This was a very easy quilt to construct and I didn't run into any problems or had any unexpected Adventures. It all came together so quickly and nicely that I was almost surprised when I realized it was done.
I used a bias band for the vines and hand appliqued both the vines and leaves in diagonally opposite corners.
Because I had it on hand, I used fleece for backing ... no batting at all.
I used this quilt as another practice piece for longarm quilting with Lizzie. At some point, I really needed to go beyond pantographs on charity baby quilts and work on something that was a bigger size. I also wanted to experiment with different quilting motifs on the same quilt top.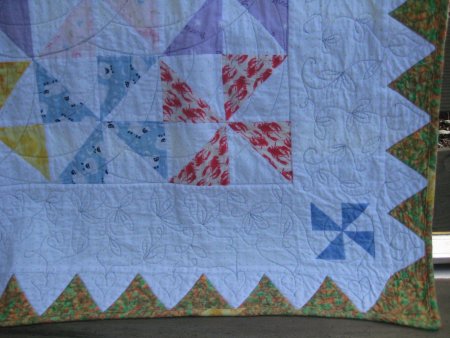 I chose to do Baptist Fan in the center pinwheel portion to contrast with the angular pinwheels. Baptist Fan is a series of concentric circle segments. Each segment appears to overlap the next segment. The curves for this quilting motif need to be smooth in order to look good. Baptist Fan templates are available but the prices are usually higher than nuts on a giraffe. (oh. was that my outside voice?)
I have a plastics fabricator store locally (TAPS Plastics) and one thing they regularly stock are acrylic circles of many different diameters. Because the pinwheel blocks were large (12" square), I wanted a large Baptist Fan design. So I bought 4 circles of the appropriate diameters to give me 4 circular rows. I'm not sure how "professional" Baptist Fan templates work but this home-made version worked out well enough for me; it might have taken me longer to swap out my circle templates but it sure didn't cost me an arm and a leg!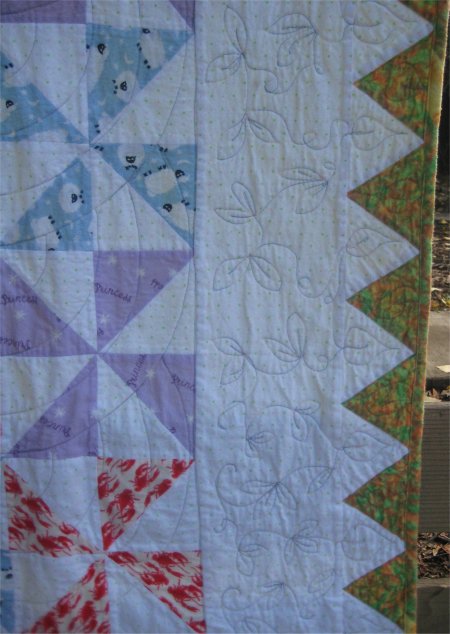 I remembered that I had a quilt (that had been longarm quilted by a local quilter) that had some fantastic leaf/vine meandering. I hauled out that quilt and did my own version of a vine meander in the outer border. More leaf/vine meandering was placed in the center of each dogtooth triangle.

Then onto the applique part of the quilt. Ugh. I wanted to do outline quilting. What I got was lines that looked like a sleep-deprived 3 year old drew them. Ugh. How on earth do you do nice looking outlines? Or echo quilting for that matter??? (AH. I think I discovered an answer ... a gadget called the Line Tamer. I shall have to look into this a bit more.) Cuz without some real assistance, I can be assured that I just don't have the fine motor control necessary to move Lizzie where she needs to go for precision quilting.

On the other hand, this was more practice quilting and over-all, I'm happy with it. The quilt is cozy and warm; while the quilting won't win any awards, it will certainly hold the quilt together. :-)


[an error occurred while processing this directive] [an error occurred while processing this directive] [an error occurred while processing this directive] [an error occurred while processing this directive] [an error occurred while processing this directive]