Could-be Celtic Challenge Project .. or "Ami! Are you Outta Your Mind??"
It was supposed to be Celtic and it should have been Celtic but because I didn't exactly follow the directions properly, it didn't come out precisely Celtic. But from the back of a galloping horse at a distance of 5 miles, it doesn't look half-bad. :-) [Celtic knotwork is a very careful interlacing of the lines so that the intersections always alternate being over or under ... mine isn't exactly, precisely perfect.]
By way of background, this project began at the 2005 Arizona Quilting Retreat in Phoenix, a yearly event I have been participating in since its inception in 2002. One eagerly anticipated activity of our retreat is the Show-n-Tell event. One of our attendees (Ami - SewingUpAStorm) always astounds us with her fabulous non-traditional quilt art projects. She is attracted to Challenge events and has constantly encouraged us to expand our horizons to break new personal boundaries. We usually ignore her. :-)
However, in February 2005, Ami, with whatever demented rationale she used, bought an entire bolt of the most hideous, gawdawful and atrocious fabric that has ever been printed. I'm convinced the designer was high on drugs and the manufacturer was delusional, since there is no other rational explanation for this fabric's existence. We Retreat attendees have since named this fabric "SpongeBob on crack." ;-)
In any case, Ami cut this abomination into Fat Eighths and made sure *everyone* at the Retreat got one! Oh lucky us. She then challenged us to come up with some project that used this fabric. We were to treat this as a serious project and to do our best work. [I'm sure that Ami conveniently ignored the fact that each and everyone of us has a List of Quilts To Make that is endless .... and her Challenge Project didn't even make the last page!] I need to add, at this point, that I really do not LIKE Challenge pieces ... because I have my OWN list of quilts to be made that goes from my house to the moon. I just don't need another project that I'm not particularly interested in doing.
There was much complaining, derision and doubting Ami's sanity at the Retreat regarding this fabric.
Once we all returned home, we started talking and complaining and whining on the (About.com) Quilting Forum (where we all participate) about how utterly horrid this fabric was.
I asked if my cats pooped on it, could I be excused?
No.
I asked if Mr. Pirate used it as target practice, could I be excused?
No.
What a narrow-minded attitude!!
But .. because Ami is a good buddy of mine, I didn't want to disillusion her or let her down, so I resolved to get this project done immediately so I could get it out of the way. Remembering that Ami said that we should look at this fabric and realize that if displayed in small enough pieces, the complete unattractiveness would disappear; I also wanted to use my Fat Eighth completely. I didn't wany ANY leftovers. Putting on my thinking cap, I decided to make as much continuous bias as I could from my piece in order to use it in a Celtic knotwork design. I just had to make sure that the design I chose didn't require more than I could make!
Fortunately, I found such a design in "Celtic Quilts: a new look in Ancient designs" by Beth Ann Williams. (ISBN 1-56477-310-8). At this point, I must beg forgiveness from Beth Ann for embellishing her wonderful design in the manner that I did. Remember my pathetic attempts at excusing myself from the Challenge? Well, I decided to incorporate those elements into my project.
I was able to do this because of an incredible stroke of good fortune! Quite by chance, I found 2 machine embroidery designs available as free downloads ... bullet holes and a steaming pile of poo!!! I have no idea why the digitizers felt compelled to use their time and talents to create these whimsical designs, but I do thank them! [The pile of poo was subsequently re-done as an outline-only design, with the permission of the digitizer, since the fully embroidered design seemed to be too heavy for my project.]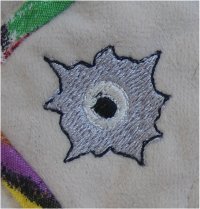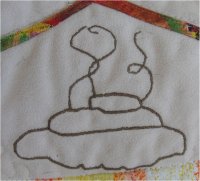 So, it was with great glee that I was able to really put bullet holes and piles of poo next to the focus fabric to demonstrate my total repulsion of it! :-)

I added on extra fabric strips around the perimeter to make the original design large enough to be an oversized (27" square) pilow.

I am pleased to say that by May 2005, my challenge project was DONE. FINISHED. COMPLETED. And I don't ever have to think about it again except for where it is come February 2006 for the Retreat reveal!


[an error occurred while processing this directive] [an error occurred while processing this directive] [an error occurred while processing this directive] [an error occurred while processing this directive] [an error occurred while processing this directive]