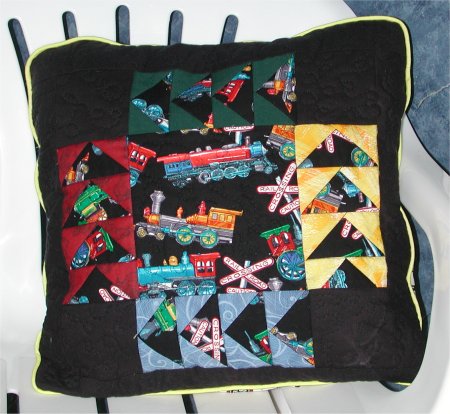 "Trains and 'Vettes and Roller Coasters .. oh my!"
Not quite as catchy as "lions & tigers & bears - oh my!" but then there aren't any animals in this quilt. :-)
My older brother has liked model trains since he was a young boy. For the past 4-5 years, I've been collecting train motif fabric whenever I went to a quilt show or saw some in a store.
Over the years, I've found about 10-12 train themes, 10 of which I used on the front of the quilt.
The others, I used in a throw pillow cover which accompanies the quilt.

When he got old enough to become interested in cars, there was only one car for him ... Corvettes. I was extremely fortunate to find a tossed Corvette fabric "someplace" online and knew it would be the backing for the quilt.
Later in life, when he realized that riding one wasn't going to kill him [grin], he developed a fondess for roller coasters .. lo and behold, I found a fabric with that motif also!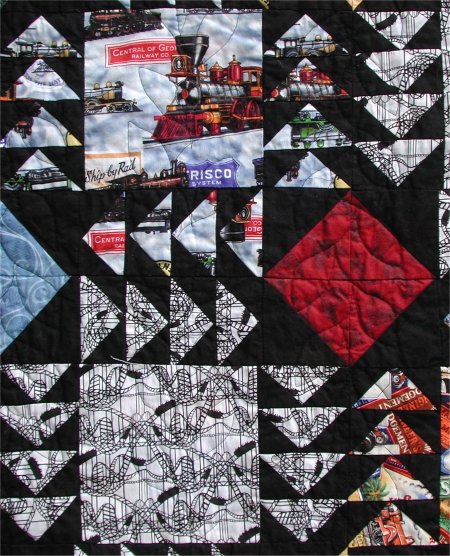 As I was collecting the train fabrics, I was also flagging my books and magazines for ideas on how to best use the fabric. Since it was the motif that I wanted to showcase and not necessarily the quilt layout, I was specifically looking for a design that would use larger pieces of fabric without resorting to big, ol' 10" squares sewn together. It was all soooo confusing ... I'd find a design that I liked only to have it superceded a few months later by another good design. Finally, I decided on a 6" square surrounded by Flying Geese. The layout would be diagonal color bands alternating with "solid" color diamonds between the blocks.

I had originally laid out the blocks for a double/full size quilt but when I pulled out the backing fabric I realized I had a small problem. I had bought 4 yards of the Corvette fabric without having a design for the quilt in mind (a common problem with me). Therefore, since I really wanted the backing to be *only* the Corvette fabric, I was now constrained to a 2 yard length, since I needed two lengths of the fabric sewn together to create the width I needed. This meant that I needed to reduce the size of the quilt top ... it ended up 6 blocks x 6 blocks or about 72" square .. a really *weird* size for a quilt. I was holding my breath as I was sandwiching the quilt ... the backing *just* fit. I think there was about 1" extra on the top & bottom.

When Mr. Pirate looked at the quilt, he remarked, "Kinda busy, isn't it? Your brother will think he's back on acid!" ... and then he chuckled. Hmph. *HE* was doggone lucky that I restrained myself from pummeling him! However, in looking at the entire quilt, he does have a point .. it *is* busy .. but ..[sigh] ... it's not gonna be changed at this point. And if my brother gets bad flashbacks, that's his problem. [inserted sympathetic little sister look] :-) Note: the "acid" references are an over-the-top commentary on the 1960's when my older brother was early 20's .... and obviously ANYONE who grew up in the hippie era "naturally" dropped acid. Not. :-)


[an error occurred while processing this directive] [an error occurred while processing this directive] [an error occurred while processing this directive] [an error occurred while processing this directive] [an error occurred while processing this directive]