At the 2003 Arizona Quilt Retreat, SharonAE - who is the Queen of Stack-n-Whacks - got EVERYONE into making them. We were giddy with delight as each new stack-n-whack block was shown off. The blocks used for my sister-in-law's quilt came from the Retreat.
For the layout, I decided that I would square off the hexagon to a square; that made it easier for me to deal with. However, this essentially turned the Stack-n-Whack into a snowball block, which I never have particularly liked. (Small digression: I really don't care for the Snowball block. Every time I've seen it, it reminds me of a big, ol' white eyeball that is just waaay too much 'in your face' for my liking. So imagine my amusement when, for my last couple of projects (my Dad's birthday memory quilt and this one), the block du jour turned out to be ... yes! ... Snowballs! Well, at least they weren't big, ol' white eyeballs. :-) )
Anyway, back to the stack-n-whack ... I also didn't want to simply butt the blocks up against one another. I've seen that too many times. Standard sashing seemed a little tame and boring, so I hit upon the idea of putting stars in the sashing intersections. I pulled some solid and solid-looking fabrics from my stash which coordinated with the colors in the tropical print and arranged the colored stars in diagonal rows. The green turned out to be a little on the dark side, but .. eh .. [shrug] ... live and learn. I'm not about to rip them out and re-sew.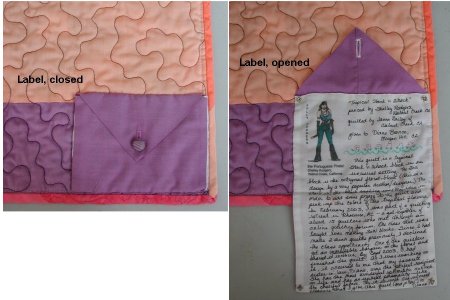 The label is one of my more clever ideas. For this quilt, I had a LOT to say and needed a BIG space to write it in. But I didn't want a BIG label. Following up on an idea suggested by a quilting forum member, I created what I call the Envelope Label. It gives you a very big area to write your Great American Novel but folds up into an inobtrusive label. Diretions for making this Envelope Label can be found on my main quilting page in the Informational Links section near the bottom of the page.

This is another quilt I sent off to Janna Bailey of The Quilting Company. I had her do a very simple all-over meander, since the front of the quilt is *so* busy.
And to all you scoffers out there who razzed me about not having a stack-n-whack .... so there .. ppphhhhtttt! I have TOO finished my stack-n-whack! Have you? :-)