In August of 2001, I entered Poppies Fabrics Challenge Quilt showcasing the RJR Stained Glass line. The layout I eventually chose to do came from "Shadow Quilts" by Patricia Magaret & Donna Slusser. One quilt pictured in the book was of a sewing machine surrounded by smaller blocks of sewing accessories and sampler blocks. Unfortunately, the pattern for this quilt wasn't given. However, from the book, I found their website, where I delighted to find that the sewing machine machine quilt was being offered as an online class!
(note: it is many years later and the website, www.forgetmenotstudio.com, is no longer in existance. I know that both Patricia and Donna were recovering from cancer and it may be that there was a recurrance. :-( I simply can not find any reference to what may have happened to either of them. I am very sad.)
I immediately signed up and began a very long hurry-up-and-wait process. I'm a pretty competent seamstress; given a semi-decent pattern, I can figure out how to get it done, so that I don't need a whole lot of hand-holding. I did read the class description and realized this class was geared for the beginning quilter, so that the lessons would be repeating a lot of information I already knew. This was OK, because I *really* wanted this layout! :-)
Lesson 1:

The class was 8 lessons long, spaced 2 weeks apart. Every Tuesday/Wednesday a new lesson would be uploaded to the class site. The students could then print it out and go to work.
The very first lesson contained a LOT of very basic, beginning quilting making information (all very useful, I'm sure. I did skim it over because one never knows if a new pearl of wisdom will emerge) and the very first quilt block was .... rail fence.
Well, it took me all of 1/2 hour (including pulling my fabric) to make the 7 rail fence segments. [sigh]
I then had to wait 2 weeks for the next lesson.

Lesson 2:

And so began the process .. I'd eagerly wait for the next lesson to be uploaded; I'd promply print it off and make up the block; send the digital picture back to Patricia & Donna where it would be put into the class gallery .. and then wait.
And wait.
And wait.
But .. I knew this from the beginning, so it wasn't like it was a nasty surprise. However, it *has* been a VERY long 16 weeks! :-)

Lesson 3':

For this project, I was determined that I would only use stash fabric .. stuff I already had on-hand. (I really am having serious Guilt Attacks over the amount of fabric I have, so I am resolved to actually *use* my fabric in projects rather than buying new yardage or just hoarding what I have. (smile.)
I had previously taken a fabric marbeling class and had about 10 pieces of lovely marbled fabric that I was saving for "something". Well, this project turned out to be ideal for using my marbled fabric.
I also have collected (and hoarded!) over the years, many pieces of sewing-themed fabric. I decided this was the perfect quilt to use that yardage in.

Lesson 4:

Some of the blocks were made with templates,
some with strip piecing,
some with paper-piecing and
some with applique.
Finally, after lesson 7, I completed the quilting and it was done (well .. not exactly because I still need to put on the label!)

Lesson 5: basket with three dimentional prairie point accents

For the front, I liked Patricia's ideas for quilting and have blatantly stolen them. :-)
First I stabilized all the individual motifs with stitch-in-the-ditch.
Then I cross-hatched the background material, using the blue painter's masking tape (its sort of like sticky-note masking tape .. it only sticks temporarily and leaves absolutely NO residue .. it's great stuff!) as a guide for the spacing.
The sewing machine was done in a meandering stitch. I'm not terrifically happy with this meandering, as my machine (for whatever reason .. maybe it was tired by this time) started skipping stitches at various intervals. It was exceedingly frustrating to deal with.
I put a free-form loopy design inside the center square of the Sawtooth Star blocks. I'm just a beginning home machine quilter and these motifs are kinda shakey. :-)
The binding was made from strips of my marbled fabric, sewn together into a very long strip and applied as a double-fold binding with mitered corners.

Lesson 5 (more): scissors

Remember, this project was intended for beginning quilters .. the blocks are NOT difficult. They were designed to increase the beginning quilter's self-confidence and sewing ability.
The other lessons were for assembly and quilting.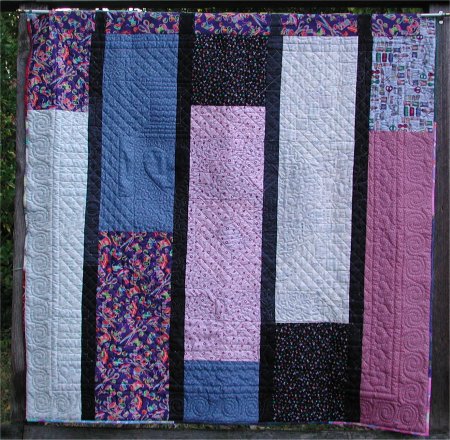 For the back of the quilt, I didn't have one piece large enough to make a whole-cloth backing, I decided that this project was "worthy" of using my sewing themed fabric for the backing.
So, I have large strips of the sewing motif fabric (two of which had already been used in the quilt front), alternating with narrow strips of the black fabric.
I also sewed on a hanging sleeve at the top.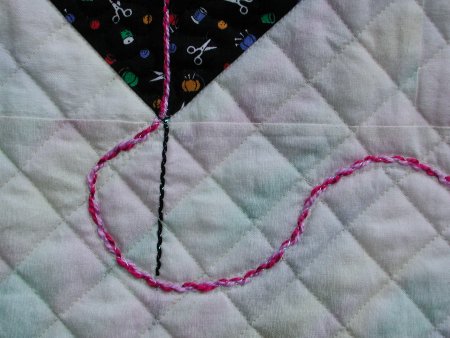 This detail picture is of the "thread" and the "needle". I used DMC pearl cotton, size 3, for them both.
The thread coming off the spool at the top of the machine is actually 2 different colors twisted together: a hot pink and a pale lavender.
The needle is plain black.
I zig-zagged over the pearl cotton using Superior Threads Glitter, #114, which has a nifty translucent rainbow effect (sort of a like an oil-slick on a highway).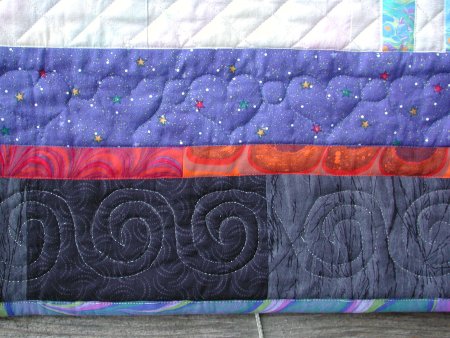 This detail picture is of the two borders: in the Attic Window border, I used a stencil to quilt a series of hearts and circles, because I love quiling.

In the black outer border, I used another stencil to do spirals, which looks like a bird's-eye view of thread coming off the spool. :-)

The hearts-and-circles and the loopy sawtooth star designs were quilted in Superior Thread Metallic N36, a medium blue metallic. The spirals were quilted in Sulky Metallic #142-7023, which is a silver-black metallic thread. Everything else was quilted in regular ol' thread.

Patricia & Donna are *wonderful* instructors. They are incredibly encouraging and will happily try to present a concept in a different way if the lesson wasn't clear to someone. They pass along student-supplied tips & techniques and are absolutely the best cheerleaders any student could ever want. :-)


[an error occurred while processing this directive] [an error occurred while processing this directive] [an error occurred while processing this directive] [an error occurred while processing this directive] [an error occurred while processing this directive]