This is entire quilt is exactly what quilting is all about.
On the About.com Quilting forum, where I have been a more-or-less active participant since late 2000, we have sewn block swaps and fabric swaps. This is where one person is the hostess/coordinator, sets forth the rules of the swap (kind of block or fabric, colors, where to send your stuff) and then redistributes the blocks or fabric when the timeframe is over for the swap.
One such hostess was 25 year old Angela Smallwood (quilthunter) of Colorado. She had a husband and a 3 year old son, John, nick-named Hunter.
To our utter astonishment, we read the following post from a member of Angela's swap one day:

     I received an e-mail from quilthunter's e-mail address yesterday. It was from her husband. Here is the text:
                "Please notify anyone else that she was doing a fabric swap with that
		Angela (quilthunter)Smallwood passed away on 08-21-00.
                          Thank you, Sam Smallwood (husband)" 

The quilting community was completely dumbfounded. She had been killed in a hunting accident. She left an unfinished swap, a 3 year old son and a husband of 6 years. She was a member of the Rocky Mountain Quilting Society and a region bow hunters group. She was a homemaker that liked to quilt, can, hunt and cook.
It was incredible that in the middle of his grief and coping with the aftermath of the accident, her husband came on the forum long enough to tell everyone why the swap hadn't gone out.
Eventhough Angela was a fairly new member to the Quilting forum and wasn't widely known, there was an absolute outpouring of offers for blocks to make the little boy a quilt in honor of his mom, whose interests he'd never know otherwise. In consultation with her husband, who warmly approved the making a quilt for their son, the forum found out that Hunter "REALLY likes animals, anything outdoors." One suggestion was to photo transfer a picture of Angela on the quilt, which Sam also liked, so that "it would remind him of his mom and when he wrapped up in it, give him some comfort in remembering that she loved him."
Susan Druding, the moderator of the Quilting forum, designed 2 blocks: one that looks like a Mason jar and another that looks like a baby food jar. The idea was finalized that the blocks would be of a certain size per the pattern or multiples of that size. Any sort of animal or kid-related fabric would be put in the "jar" part of the block so that when finished, the quilt would have all these wonderful things that Hunter liked, captured in jars for him. The design was later expanded to accept any block that would fit in the specified dimensions (for ease of assembling), so that people who lacked confidence in their sewing skills could send in a rectangle of fabric and still be able to be included in the final quilt.
During the making of the blocks and chatter about the quilt on the forum, Sam, as well as Angela's parents, came back on the forum to read what had been written and express their feelings of gratitude and deep appreciation for the quilt that was being made for Hunter from people who were involved with Angela's swaps and those who never knew any of family at all. In one post, Sam wrote: "Angela constantly amazed me with her talents. She was into crafting, rubber stamping, canning, QUILTING, sewing, camping, fishing, hunting, and was a great cook and an excellent mother." Angela's parents got online also and posted their thanks and some of their memories of Angela.
The blocks POURED in from, literally, all over the world. Contributions came in to cover the cost of the backing, the batting and mailing costs. The making of the quilt was truly a group effort: Susan D., the forum hostess, in California collected the blocks. Nyla in Missouri assembled them. The top and backing were sent to Kathy Y. in N. Carolina for the batting and the entire package was sent to Susan R. in Alabama for quilting. Patricia in Wisconsin bound the quilt and a local forum member, Lynn B. in Colorado, hand-delivered the quilt to the family. There were eventually enough blocks to create a double-sided, queen sized quilt. (Unfortunately, a picture of the finished quilt was never taken. Pictures of the individual blocks that went into it were taken and as soon as I am given the link to them, I'll update this page.)
I was priviledged to have been part of this effort. It was very much a "there but for the grace of God, go I" ... a sudden and unexpected passing can happen to any one of us. It doesn't matter that neither Sam nor Hunter don't know any of us and will never meet any of us. It doesn't matter that the forum will probably never get any further information on the family. What matters is that a bunch of compassionate people pooled their incredible talents for the comfort of one small boy, who will grow up without his loving mother.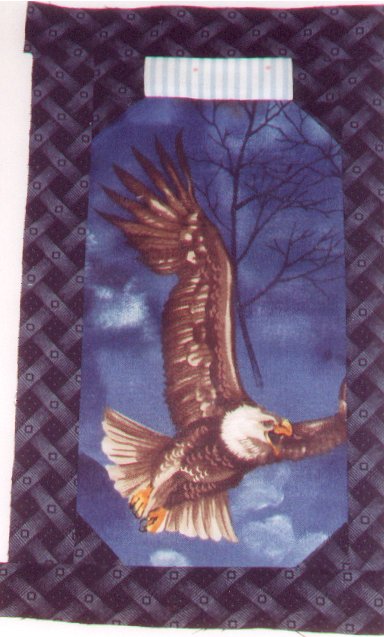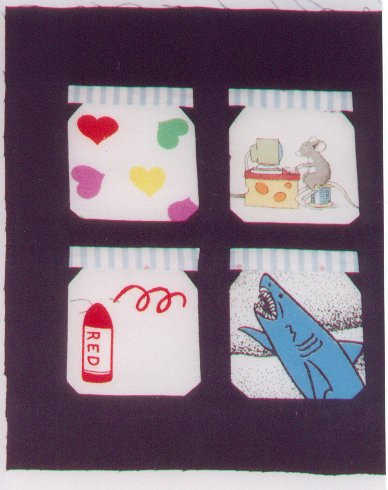 These were my blocks for Hunter's quilt one big jar and 4 small jars.


[an error occurred while processing this directive] [an error occurred while processing this directive] [an error occurred while processing this directive] [an error occurred while processing this directive] [an error occurred while processing this directive]