This is all (About.com's Quilting Forum) Janis in Southern California's fault, I'll have you know. :-)
Back when Halloween was still around the corner, all the fabric stores had the most wonderful Halloween fabric in stock. Alas and alack, my munchkins are beyond the neat-Halloween-fabric-for-school-clothes that I used to make for them when they were in the lower elementary grades. It was with much regret that I passed the fabric by.
But then!!! Janis posted a link showing her very own Halloween quilt and it was like a Bolt Of Lightening (tm)! I said to myself, "Self .. you can make *yourself* a Halloween quilt using all that nifty Halloween fabric!". Woo hoo! Quicker than a vampire jumping back into his coffin at daybreak, I was at the fabric store stocking up on what I needed. I was nearly speechless with giddiness ... practically. :-)
I had decided to make Eleanor Burns' Amish Quilt in a Day (it's just a Roman Stripe layout, actually),
using different colored Halloween motif fabrics for the striped half of the square
and a black tone-on-tone bat fabric for the other half of the square.

The inner border is the most FANTASTIC vibrant red background with gold metallic lightening strikes on it (seen as the last fabric in the vertical stripe, above). The outer border is a great mottled gray w/ metallic gold and black flecks running thru it.
The backing fabric is the most INCREDIBLE print by Alexander Henry, called "Haunted Mansion". It shows some simply terrific motifs:
a mummy, a spotted octopus, a man with an apple in his mouth trussed up like a turkey, a hungry monster
a headless man, an alien giving out trick-or-treats, a friendly dragon head
some great eyes in the attic, a skeleton, a slithery tail, a monster waving
There are other scenes that I didn't take pictures of. I loooooove this backing fabric!
Following her directions faithfully, I was rather pleased to discover that the 'quilt in a day' name is not quite a misnomer ... relentlessly sewing, I was able to construct the entire top in one day. I further decided to indulge myself and for the second time in my life, I sent a quilt out to be professionally quilted.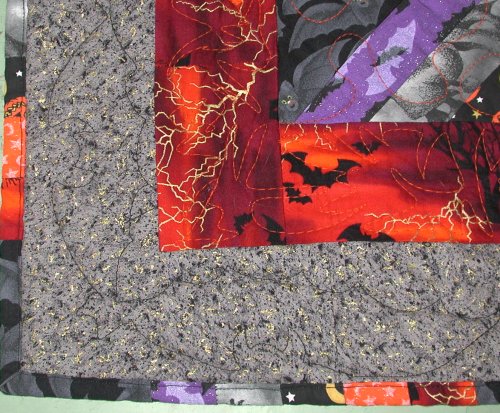 I asked on the Forum if anyone knew of any links that had bats, pumpkins, etc .. my idea was to use these as quilting designs somehow.
Jody Sumrall (who I haven't seen lately) was nice enough to point me to a site that had the EXACT bats that I had in my mind's eye. I printed off the bats and took them to the quilter.
In talking about what I wanted for a quilting design, we decided that the bats would go on the outer border in black thread; the inner border would have sharply angular free-form lines (depicting lightening strikes) in orange and the body of the quilt would have a large meandering stitch, also in orange, reminiscent of ghostly wanderings. :-)

Eleanor Burns' method of constructing Roman Stripes (alternatively miscalled Roaming Stripes) is really kinda nifty. You sew a strip set of all the stripes you're going to have. Cut a strip of the black fabric exactly the same size as the striped strip set. Put them right sides together and seam on both long ends, resulting in a flat tube. Now, using your 45 degree ruler, you cut half-square triangles, alternating the hypotenuse along either long seamed end. Release the few stitches at the pointed end and voila! you have a perfect half-square triangle block .... one half a triangle of black, the other half a triangle of stripes. Really, really nifty technique!
Using this basic half-square triangle block, there are many layouts that can be created, forming very different looking quilts. The layout I chose results in diagonal lines, a technically more difficult layout to do nicely as all the seamlines should match for a pleasing diagonal line. Personally, I don't think it's all that difficult, but then I tend to be anally-retentive. :-) If this were a Log Cabin quilt, this layout would be called "Straight Furrows". Other layouts don't require the striped seamlines to match, so they are less exacting to put together.

After cutting all the blocks I needed for my twin sized quilt, I discovered that this was the fabric-that-would-not-die! I had enough fabric & blocks to make
a king-sized pillow case,
6 placemats,
1 table runner,
a multi-segmented binding for the quilt
AND I *still* have some left over to make a patchwork yolk for a casual shirt (uh.. haven't made the shirt yet) . [as of 2004 2006 2012, that casual shirt STILL has not been made! (but I fully intend on doing so!) ]
Honest to goodness .. I did NOT overbuy the fabric! well ... not for the quilt top anyway. :-)
The placemats are in the Flying Geese layout. In my stash, I had some natural colored, homespun-sorta fabric that I used as the sky; the partial blocks were the geese. I had enough of the backing fabric to use on the 6 placemats, but when it came time to back the table runner, I only had a very, very small piece of the backing fabric left. So ..... I put some borders around the remnant and created a big enough piece to back the table runner. :-) I quilted the bat motif in peacock metallic thread in the natural colored fabric and stitched concentric triangles in the geese.
An "interesting" thing happened when I tried to bind the table runner ... I had enough of the mottled grey material to bind all the placemats and I thought I'd be able to squeak by for the table runner. I had pinned the binding all the way around the table runner, only to end up 8" short. [insert sounds of gnashing of teeth] I really wanted the grey fabric for the table runner, so it would match the placemats. What to do? What to do? I absolutely refused to buy more fabric for 8" of bias binding! Well.... as many of my friends know, I hate problems; I like solutions. Therefore, carefully measuring where each corner was going to fall, I inserted a piece of that delicious red fabric so that, more or less, 2 inches on either side of the corner had the red fabric. See .. 4 corners times 2" gives me 8" ... by golly! the exact amount I was short. :-)

So, thanks to Janis I have my very own Halloween quilt and thanks to Jody, I have some great little bat quilting motifs. Someday I might even get around to making the shirt w/ a patchwork yoke. :-)

[an error occurred while processing this directive] [an error occurred while processing this directive] [an error occurred while processing this directive] [an error occurred while processing this directive] [an error occurred while processing this directive]