Neil and I met on an Internet chat channel for the 1995 futuristic military TV program, Space: Above and Beyond. We seemed to hit it off immediately and discovered that we have the same weird, bizarre sense of humor (said in the nicest way possible), eventhough she doesn't appreciate the higher forms of it, such as puns. :-)
It was prior to Christmas 1996 when I saw the most gorgeous Hannakah fabric. It was two complimentary prints, essentially the reverse of each other. One was a white background with various Judaica objects in blue on it; the other was a blue background with the objects in a lighter blue. Accents were in metallic silver. I just had to make something with it. Luckily, Neil is Jewish and I knew she would love it.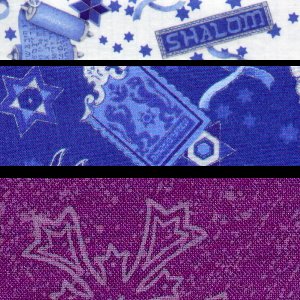 I paired the blue and white fabrics with a rich purple and made the quilt in the Irish Chain pattern. It's a "personal" size and I sewed a hanging sleeve on the reverse, so that if Neil wanted to actually use it as a wall-hanging, she could. Of course, this would entail her obtaining something to hang the quilt from and then performing the manual labor to secure the hardware to the wall ... this could be a major undertaking! [grin].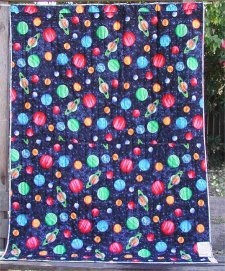 The backing is an outer-space motif to represent our comon interest in Space:Above and Beyond.
I was thinking of quilting the outline of the Star of David in the centers of the chain, but held off on doing it. I knew, deep down in my heart, that if I waited to do the quilted Stars of David, the quilt would never get done .. and I really did want to give her the quilt while we were both still alive. The quilt was given to Neil without the outline quilting ... and as a result it looks kinda unfinished to me, though she likes it just fine. Someday I may steal it back to do the Star of David quilting .... someday. [grin]

Notes added at a (much) later date .. like August 2001: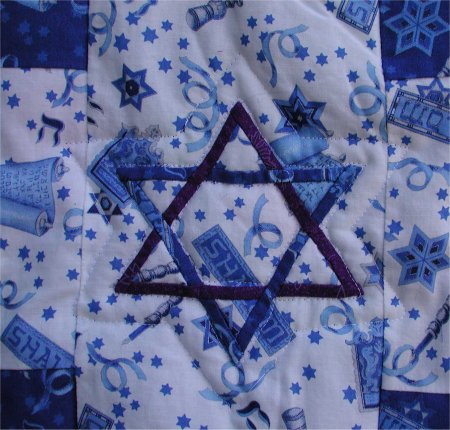 Well, sometimes it takes me a while to figure out just exactly the right way to finish off a project. In the Spring of 2001, I was working on a Celtic knotwork quilting design and it hit me like a bolt from the blue .. omigosh .. Stars of David in Celtic knotwork! Why hadn't I thought of this before?? I made a sample using the leftover blue and purple fabric (see? it's a good thing to be a packrat!). The good news was that I really liked it. The bad new was that I had a very limited amout of the blue fabric left.
When I told Neil that I had finally figured out what to do in the "empty" spaces of the Irish Chain, we arranged for me to visit her, at which time I told her that if she really prefered the quilt without the Stars of David, that was perfectly fine with be, as it was her quilt. (Parenthetically, if she didn't want the Stars of David, it would mean one less project for me!). However, she did like them, so I bundled up the quilt and took it home with me.
At first, I thought I could machine applique the Stars of David using monofilament thread, but the result wasn't something that I particularly cared for. My sewing machine doesn't have the right kind blind hemstitch that produces the great machine applique stitch that I've seen on other quilts. Therefore, the only option left was to hand-applique. [sigh] Hand applique 17 Stars of David. That's 2 triangles with two sides each to be hand-stitched down. [sigh] But, I gotta admit, they do look nice. :-)

I knew that I had a limited amount of blue fabric to use and sure enough, I discovered I had enough for exactly 16 Stars of David. Well .. rats. One thing quilters all have in common is the ability to make a silk purse from a sow's ear, so I decided that I'd put something different in the middle Irish Chain, thereby making it look as though that was the design choice all along. I was thinking maybe a menorah would be kinda neat. But when I ran the idea past Neil, she actually prefered the idea of all Stars of David, even if one was made from a different fabric (although I was able to find the same nice blue shade). That made my life easier, as I didn't have to find another pattern to copy. :-)
That left only the outside border to figure out what to do with. While I was doing all that hand-applique, it left me with a fair amount of time to simply think about the quilt. It occured to me that for the quilting design in the border, I would free-motion her name and images of her online nick, Sharkie, which is what I ended up doing all around the perimeter of the quilt. :-)

The now-completely finished quilt was returned to Neil and to my knowledge is actually being used as a quilt. :-)


[an error occurred while processing this directive] [an error occurred while processing this directive] [an error occurred while processing this directive] [an error occurred while processing this directive] [an error occurred while processing this directive]