Pizza Pirates of Benicia, CA The Internet is the most amazing place. You can find anything, anyone, anyplace.

I often peruse eBay to see what kinds of piratey things are being listed. One item I found was a gift certificate to "Pizza Pirate". Now, this was rather curious and upon further investigation, I discovered it was indeed a gift certificate to a pizza parlor named Pizza Pirate! Imagine my disappointment and dismay to discover the place was located about 4 hours south of me. [sigh].

However, not to be dissuaded, I did a Google search on "pizza pirate" and to my intense delight and joy, I discovered a semi-local Pizza Pirate .. only 20 minutes north of me! woo hoo!

The very next day the Jolly Rodgers family made a pilgrammage to the Pizza Pirate of Benicia, CA and had a wonderfully filling and satisfying lunch. They offered a plethora of pizzas, a surfeit of salad fixin's, a selection of sandwiches and plenty of pasta. Not to mention a bevy of beers.

Below are some pictures I took, no doubt causing the patrons to wonder about my intentions .... or at the very least my mental stability. :-)
The front of the building ... 72 Solano Square, Benicia, CA.

YES! They really DO have a Pizza Pirate! Don't bother to offer him any of your pizza ... he's already stuffed. :-)

This is part of the wall decor. The entire place is decorated in a nautical theme with a piratey flavor.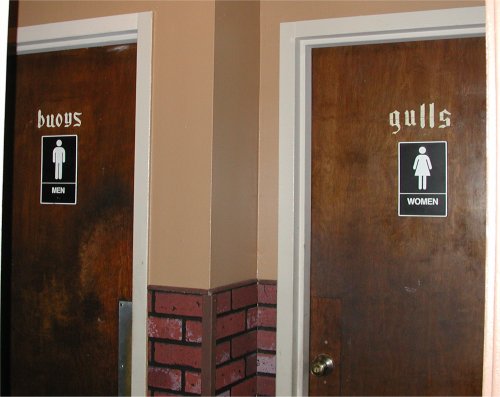 Not even the smallest detail escaped their attention!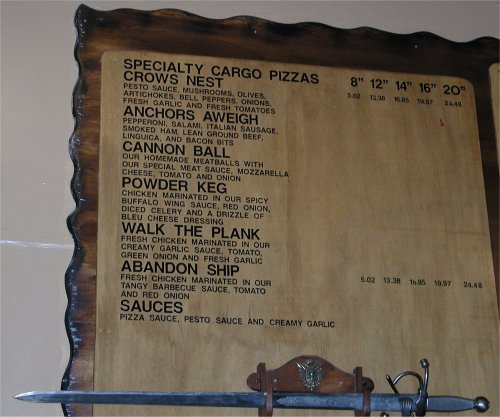 This is one of their pizza menus ... their specialty items. We had the "anchors aweigh" .. the all-meat version. *Very* tasty. yum!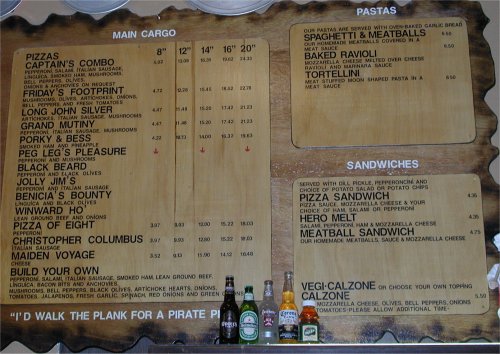 another menu on the wall, showing their other pizza choices, pastas and sandwiches. Ya just gotta love their pizza names!

This is their salad bar ... it's one of the most complete salad bar selections I've seen in a long time .. and all of the items are edible too! None of this new age frou-frou stuff either .. there's not a raw calamari tentacle to be seen.


back to the Adventure index page [an error occurred while processing this directive]