Lisa has begun to participate in a vintage dance event, occurring every other month, featuring Victorian dances ... Waltzes, Polkas, Schottisches, Mazurkas, and set dances such as the Sir Roger de Coverley and the Congress of Vienna. This dance is hosted by Ye Gaskell Occasional Dance Society, who has been doing these dances for the past 20 years. [The pictures on their website are really horrid, as they are snapshots taken by various and sundry people, so they are mostly blurred and off center .. but you can get the flavor of the event. While most of the people who attend do wear period clothing, historic outfits are not required .... but if you don't, you still must be in formal attire.]
While she doesn't do the re-enactment thing, she does love being able to dress up in the pretty dresses, dance the wonderful dances and be attended by gentlemen who have exquisite manners. For this Gaskell's dance, she wanted Belle's gold ballgown (from Disney's "Beauty and the Beast"). Since it wasn't a strapless dress (I'm intimidated by them), I said, "Oh sure! I can do that!". :-)
I used Simplicity 4269, which is a good enough imitation of Belle's gown.
The base fabric is gold satin, overlaid with gold sparkle organza. The bodice is fully-lined and boned within an inch of it's life. I swear there must be 15 miles of net ruffles in the petticoat.
Truthfully, the dress can stand on it's own. :-)

The pattern called for self-fabric roses to adorn the gathered overskirt, but that was a bit too much for Lisa. She elected to have one self-fabric rose at the center front shoulder drape.
However, I was able to find a machine-embroidery design to make 3 dimensional roses, which were then sewn to the front overskirt drape. This is a freebie design, graciously offered by Stitch Delight and can be found at Stitch Delight ... just scroll to the middle of the page where the new machine embroidery magazine, Flair, is shown. The 3d rose is a downloadable project there.
[Aside: I have just subscribed to Flair magazine. This is published in the United Kingdom and is simply *fabulous*. The issue shown on Stitch Delight is the very first issue and if subsequent issues follow this quality, it will be superlative magazine to own. The 3D rose is also shown in the magazine as 2 projects.]
Although the pattern didn't call for it, I put self-fabric piping in the seam between the skirt and the bodice. Not only is this a nice decorative touch, it actually strengthens the seam by providing more support.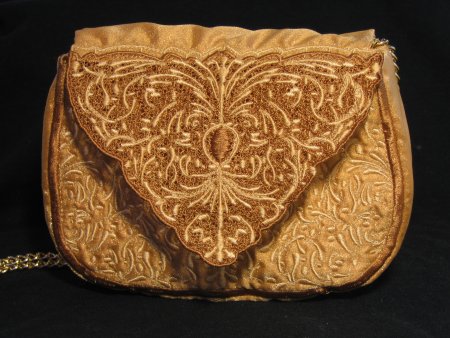 I also found a machine-embroidered purse design, which I made.
Unfortunately, I didn't find the purse design in time to finish it for the dance.
Fortunately, purses are not really needed at the dance, so I was able to finish it 99% the next day.

For a bit of personalization, I embroidered her initials on the front of the purse, in an area that would normally be covered by the free-standing lace flap. The initials were not included in the purse design, but came from my design stash. The purse will be done in time for whatever next event this dress is needed.

The purse is very ingenious, as it is made entirely in the hoop and beautifully lined. When each of the sections is completely stitched, you then use your domestic sewing machine to zig-zag the sections together. The back of the purse is just as exquisite as the front.

The purse is a retail design and can be purchased at A Stitch A Half.

[Might I even dare HOPE that this dress could be used for her Senior Ball????? Better not get my hopes up; that would be too much to ask for. :-) [edit: nope .. another outfit was made for the Senior Ball] ]


[an error occurred while processing this directive] [an error occurred while processing this directive] [an error occurred while processing this directive] [an error occurred while processing this directive] [an error occurred while processing this directive]