Rene's Harem Outfit
August 2006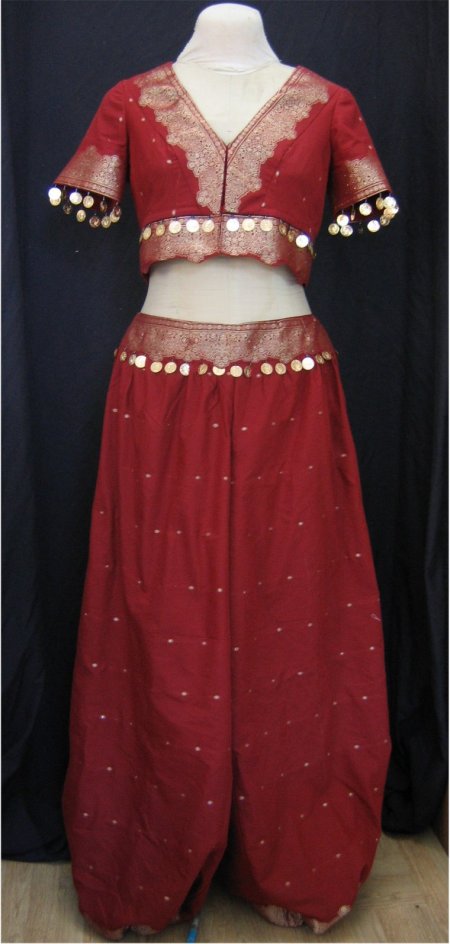 One of the dance organizations that Rene participates in is PEERS (Period Events & Entertainment Re-creation Society). PEERS holds themed dances every other month. This specific event was called "Turkish Delight Viennsse Ball" where the ball's theme was East-Meets-West, so that guests could choose to wear mid-to-late Victorian evening dress, modern evening dress, or Middle-Eastern costume (either authentic or fantasy. Rene wanted a harem outfit, so out to Joann's we went. Being the closest fabric store I have, Joann's remains my first choice for fabric. If nothing suitable can be found, I venture further afield.
Fortunately, we were able to find not only the pattern Rene wanted (Simplicity 5359) but a cotton/poly sari cloth in burgundy with gold border!
The sari cloth had a gold thread woven border on both sides of the yardage. We cut the pants so that the border was around the ankles .. although the pants bloused out sufficiently that upon first glance, you couldn't really tell the border was there. [sigh]
We cut off the border from the remaining fabric and shaped it to go around the curved pants yoke and around the V-neckline. The border also was used for the arm bands on the sleeves of the top.
A jingle-y trim of gold coins was sewn into the pants yoke, the bodice band and the arm bands.