2005 was the first year that Rene participated as a active member of the Dickens Fair, held every weekend between Thanksgiving and Christmas, in San Francisco. She joined the cast of Fezziwig's Warehouse, which is the venue where the paying public can learn vintage dances and join with the cast members in dancing. The cast members' job is to encourage the paying public to be their partners. (They are very persuasive!)
We were a bit nervous/concerned about what kind of outfit to make. There are stringent rules about historical accuracy for the pattern for the garment, the character being portrayed and the type of fabric used. After doing substantial research and consulting with various Dickens Fair experts, we finalized our choices.
Rene's character was a middle-class daughter. As such, she would not be wearing sumptuous gowns but rather something more "practical". For the day dress pattern, we used Past Patterns #702 for the bodice and Past Pattern #700 for the skirt. The fabric was a lovely cotton Christmas plaid in red and green with just a bare hint of gold metallic (small enough so that the costume approval committe didn't object). Under the pagoda sleeves were removeable white cotton sleeves, the cuffs of which were hand-embroidered. The removeable collar is a simple circle of heavily embroidered lace trim.
I also put covered buttons down the front of the bodice, carefully centering the plaid on each button. The buttons are decorative only, as the bodice is actually held closed by a line of concealed hooks and eyes.
Following Victorian examples, the bodice is a completely separate garment: it attaches to the skirt by way of hefty trouser hook-n-eyes. (I have no idea how the Victorians did it, but this method ensured that the bodice was not going to unintentionally come apart from the skirt!) In this manner, different bodices could be paired with the same skirt to create different outfits.
note: dang! Didn't I do a terrific job of matching the plaid across the center front??
To the immediate (your) right of the buttons, is a vertical green plaid line. The (your) right edge of that green plaid line is the edge of that side of the bodice (and is the center front). Look closely and you can see it. The horizontal plaid lines match across that break. :-)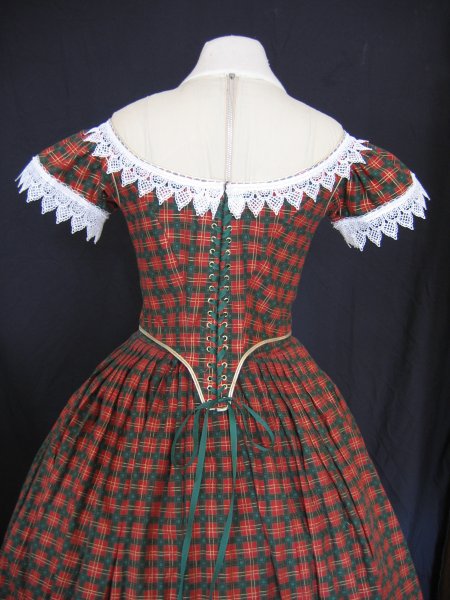 A second bodice was made to create a ball gown outfit. A ball gown bodice has a lower neckline and short sleeves .... something that was/is appropriate for evening wear but definately not suitable for day wear.
The pattern for the ball gown bodice was Past Patterns #704, view A. The bodice closed by way of eyelets and lacing up the back.
Because the ball gown wasn't going to be used at the Dickens Fair but for a Gaskell's Christmas dance, I put a double row of gold lamé piping along the lower edge of the bodice.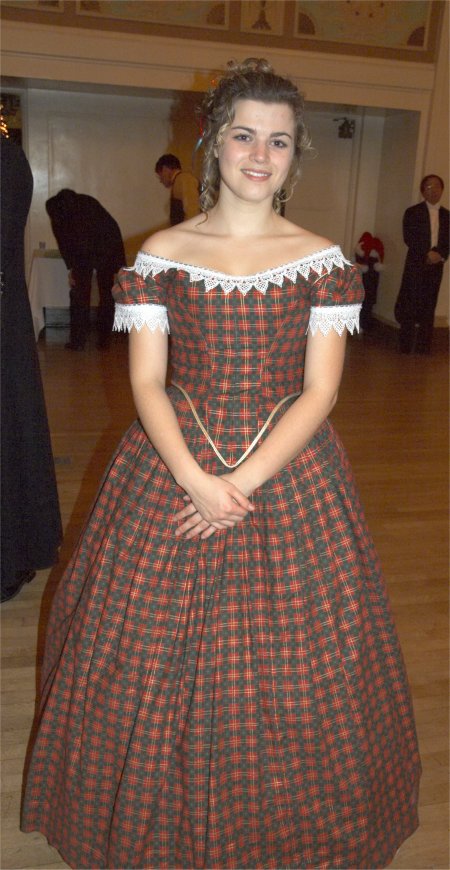 And finally, here is Rene in the ball gown at Gaskell's.


[an error occurred while processing this directive] [an error occurred while processing this directive] [an error occurred while processing this directive] [an error occurred while processing this directive] [an error occurred while processing this directive]