One of my long-time friends is Shirley. Shirley has had cats as companions for many, many years .. but only one at a time. :-)
Emily was the latest cat to share Shirley's life but, as the Fates would have it, Emily's companionship was to be short-lived. Emily developed cancer, which was not treatable. :-(
It wasn't too long ago that Emily crossed over the Rainbow Bridge and Shirley was understandably completely distraught. I wanted to do something for Shirley to express my condolences and support, but we live an entire country apart, so being there physically just wasn't possible.
BUT ... what I *could* do was to create a memento for Shirley. A physical item that she could pick up and hold and use as a device to remember all the good times with Emily.
It was many, many years ago that I had seen a quilt called "Cat Stairway to Heaven". It appeared in the October 1997 issue of McCall's quilting magazine and was freely available at that time. It was such a wonderful quilt to look at that I promptly downloaded the pattern for 'just in case'. And all these many years later, I have a need for it. While the quilt pattern is no longer available on McCall's Quilting website and even though the pattern is available for purchase at various websites, it is also STILL freely available here.
The background is extremely easy to construct: a whole bunch of 9-patches form the lower left triangle of the quilt. The upper right triangle is simply a night sky fabric. Upon this background, you applique (using your prefered method) the silhouettes of four cats and a crescent moon. A narrow inner border separates this interior from the random squares that create the outer border. Voila .. you're done.
Here's another picture of the entire quilt with slghtly less glare on it, although by no means is it a good picture.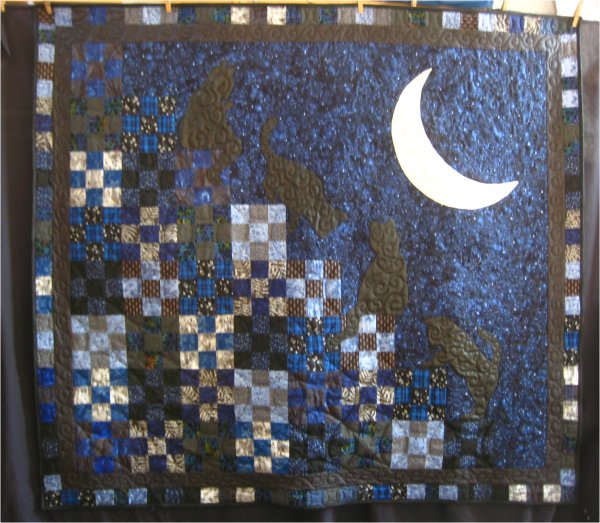 I had the PERFECT .. I mean PERFECT night sky fabric. I have loved this fabric since I first saw it and now I had the PERFECT venue to use it. The only drawback? It is *really* a night sky. It's very dark. So dark, in fact, that the cat silhouettes don't show up as well as they do on the pattern cover, where they used a lighter night sky fabric. But, I really, *really*, REALLY loved this fabric and even though it was a tad on the dark side, I used it.
The 9-patches and outer border were made from a sampling of all the dark, medium and light blacks and blues that I had in my inventory. The cat silhouettes were made from a cotton sateen fabric. I specifically wanted something that would show up against that really dark night sky fabric and the cotton sateen worked very nicely.
The moon fabric was a stroke of genius ... instead of using a flat solid white, I was able to find a wonderful white tone-on-tone that gives a subtle visual texture to the moon. (Aside: because I am NOT a photographer and any lovely pictures that I take are a result of happenstance :-), having that white moon was a real PITA. It would show up as a white, featureless blob and ruined the entire picture. So, I do apologize for that.)

The backing was pieced to coordinate with the front. I had several additional 9-patches that didn't make it to the front; they were put horizontally in the center of the back.
Above and below those 9-patches, I put a very special cityscape fabric ... it was a large piece that I had saved from another quilt I had made for Shirley in 2000-2001. I knew it would come in handy one day ... and it certainly did for this quilt. :-)

I like to put personalized labels on my quilts.
I found a lovely memorial poem from Embroidery Designs and used my embroidery machine to stitch it onto a label.

Even though taking a picture of the crescent moon proved to be a challenge beyond my meager photography knowledge, here is how I quilted the moon .... a series of scrolly things. :-)

Then there are those cat silhouettes! They are all appliqued onto the base fabric, using whatever technique that you like best. I adore needleturn applique and so that is the technique I used. I used to detest hand-applique; it was all so tedious. AND THEN, I was educated in the method that Nancy Lee Chong of Pacific Rim Quilting Company advocates for needlturn and I was converted!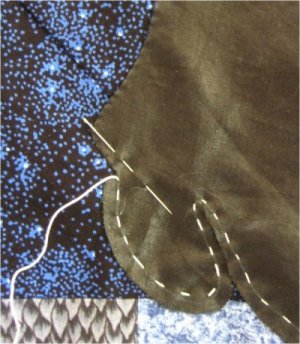 Her technique ... and it might not even be "hers" but I learned it from her so that is how it is identified in my little brain ... is trace the FINISHED edge onto the RIGHT side of the applique fabric. Cut the applique fabric in a rough shape around the drawn line. You don't need to be anywhere near exact because you are evetually going to be cutting everything but the seam allowance away. Using a thicker thread (I use hand quilting thread), hand baste right on the drawn line. Using a hand sewing thread (or silk!) for the applique process, begin by cutting away ALL BUT a small seam allowance along a small portion of the shape .. maybe 2" or so. Remove the hand basting thread in just the portion that has the small seam allowance. Do the needleturn. The needle holes from the basting along the finished edge line will show you where the applique shape needs to be turned under. Then, simply repeat the process: cut away about 2" of excess fabric, leaving just a small seam allowance, remove the hand basting thread, do the needleturn. Repeat, repeat, repeat until the entire shape is appliqued.

Swirls were done in the cats. I actually really loved the cats without quilting at all; they were so sleek and dimensional ... but being as big as they are, I was concerned that they wouldn't remain sleek after laundering, so they got quilted.
Emily's silhouette has a heart on it. All the cats were stitched in the ditch around the perimeter for definition.

The night sky got a variant of "water ripple" because I thought it would look kinda like cirrus clouds. I started doing it free-hand .. ohmygosh .. what a disaster. "Water ripples", my eyeballs! The "water ripple" isn't like the sample I had in front of me because, apparently, I can't copy free-hand. Geez. Whatever. Also, I was doing this at night ... black thread on a very dark fabric. I was going NUTS trying to see the lines that I had JUST stitched. Holy moley .. it was impossible. But then I hit upon a solution: a white chalk pencil. The kind that artists' use. I'm pretty sure the brand is "General". It's just regular chalk but encased like a pencil. It easily washes out in the laundry or even with some spritzing.
You can actually see some of the white lines on the cat and on the night sky background. I just DREW the design on the fabric and followed it like a street map. That approach worked out wonderfully. I still didn't get the cirrus cloud effect, though. :-)
I did a continuous curve (aka orange peel) design in both the big 9-patches and in the outer borders.
The inner border was done in Carla Barrett's curly swirly motif. Her swirly design has rapidly become my all-time favorite for narrow sashings. She has a number of variations and they all look terrific. It took me a while to get into the rhythm of how to stitch it so it flowed nicely but now, I barely need to think about it. :-)
You can find Carla's tutorials here and here.

And no quilt leaves this house without CLOSE SCRUTINY by our resident Quilt Inspector.


[an error occurred while processing this directive] [an error occurred while processing this directive] [an error occurred while processing this directive] [an error occurred while processing this directive] [an error occurred while processing this directive]