Well, now, this is somewhat embarassing. I could have sworn that I had posted this quilt on About.com's Quilting Show-n-Tell category but I apparently I didn't .. because a search for it (and different variations) came up empty. The reason I was looking on the forum for it is because I can't find the descriptive text file that I *ALWAYS MAKE* for my quilts at the time I make them. Now it can be that I just can't find it on my computer or ... *gasp* .. I never got around to it. Oh dear. What this means is that I am faced with the prospect of reconstructing (8 months after the fact!) why I did what I did for this quilt. Bear with me if the details are somewhat sketchy. [sigh]
My next door neighbors are Sarah & Clete. Clete's Mom, who lived in Oregon, died in 2005, if I remember correctly. During the times that Sarah & Clete spent in cleaning out Clete's Mom's house, they discovered boxes of fabric. Sarah remembered that I sewed, brought the boxes back to Walnut Creek and gave them to me. They told me that they had no idea what kind of fabric was there and if something didn't suit me for any reason, that I was free to dispose of it as I wished. Wow .. talk about a windfall! :-)
I spent quite a bit of enjoyable time sorting through the boxes. The thrift stores got all the polyester double knits and other unsuitable and uninteresting fabric. The remainder I divided into "possibly suitable for quilting" and "suitable for garments". One of the "suitable for quilting" fabrics was a lovely, large-scale tropical floral (that I nelgected to photograph and there is none left).
On a separate topic, Becky of Suriname (MissionMom) asked for beta testers (if I'm remembering correctly) for a new pattern of hers. I volunteered and realized that Clete's Mom's fabric would be perfect for the test. Becky's pattern ("Four Star") is essentially a GIANT Stack-n-Whack star, although she can't (and doesn't) call it that. The 4 GIANT stars are banded, top & bottom, with a row of Flying Geese. There is lots of space for decorative quilting. I'm pleased to say that I had no problem with Becky's directions and wouldn't hesitate to recommend it. Her pattern used to be available at her website, "The Quiltpox", but sadly Becky has taken the site down. (There *is* a website called 'Quilt Pox" but it isn't Becky's). Becky was emailed my testing notes, as well as a picture of my version of her pattern.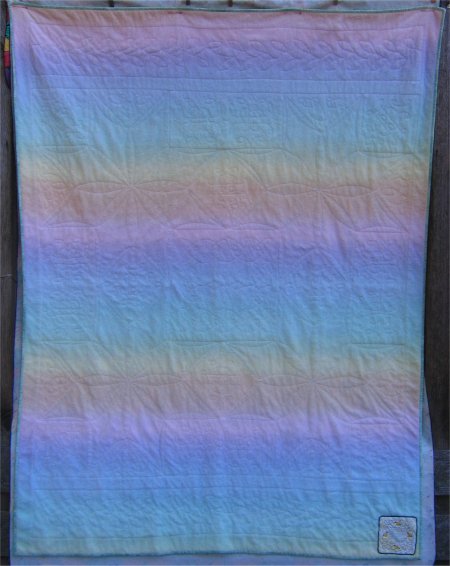 Once the top was finished, I decided to back it with fleece-only ... technique I've used several times and am very pleased with. I found a luscious rainbow fleece that nicely coordinated with the colors in the top. One nice aspect of quilting with a fleece backing is that the quilting designs are displayed very nicely.
However, as I was working on the top, it occured to me that, eventhough I had *no* idea if Clete liked or appreciated quilting, he might like it just because his Mom's fabric was used as the focal point. So, when I was done, I walked next door and presented it to him & Sarah. I was very, very gratified to see that he was extremely touched by the quilt .. not only because of his Mom's fabric (and it would be a remembrance for him) but because it was a quilt. Unbeknownst to me, his sister either sews or quilts (memory fails me at the moment), so he was very cognizant of the time and effort that went into its making. He said he eagerly anticipated his sister's next visit so he could show it to her. :-)
At approximately, 52"x57", Clete said that it made a wonderful cuddle quilt for when he and Sarah watched TV on the couch. Sarah was astounded by my color choices, as the background colors were a variation of her house's color scheme. It turned out that I couldn't have done a better match if I had actually studied her house in advance! A big score for me. :-)