Bear Valley earthquake trail to Bolinas
12 miles and 22 minutes and a whole 'nuther culture away
You can certainly leave your heart in San Francisco, but unless you have a map, you won't be able to even FIND Bolinas, situated at the very tip end of the Point Reyes peninsula. Why? Well, residents routinely tear down the road signs ... they really don't want outsiders. And you really need to want to be going to Bolinas, because since it IS at the end of the peninsula and there aren't any bridges, it isn't exactly on the way to anywhere else.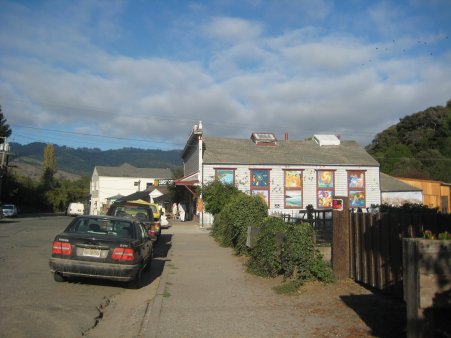 But, WE knew how to get there and our first view of the town came into view.
Ahhhhhh! There! Just down the street was the Coast Cafe .. the very place where we had been advised to eat.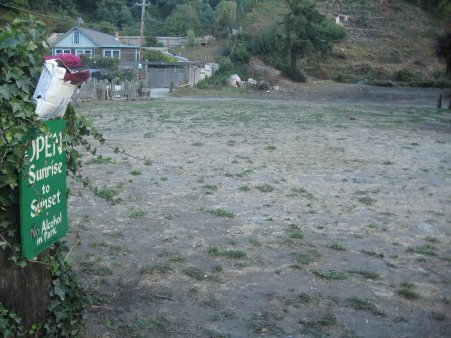 Walking through town, we viewed the Bolinas Civic Park. Apparently there isn't a great deal of civic pride in Bolinas and I will continue on my walk without further commentary.
Imagine our extreme disappointment to find out that the Coast Cafe CLOSED on Mondays. ¡Ay, carumba! ¡Qué lástima! ¡Qué mala suerte! And a great gnashing of teeth and a grumbling of tummies was heard o'er the land. Perhaps it was cosmic karma for the unkindly thoughts regarding their Civic Park.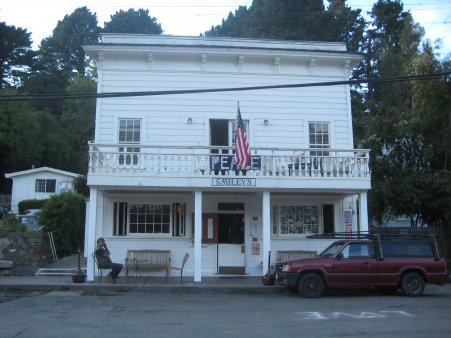 In any case, we WERE hungry. We didn't want to wait until we returned to camp to have something to eat .. perhaps a little something across the street at Smiley's Schooner Saloon?
Tom got a hot dog, I got a hamburger, we both got beers. $18 (that's EIGHTEEN dollars, folks) later, we were out the door. The locals aren't exactly friendly.
We continued on our exploration of the main street, which we discovered dead-ended (no comments on how appropriate a dead-end is for this town) at the beach. On one side of the dead end is Bolinas Lagoon, the other side is the Pacific Ocean. While eating my hamburger, I had been reading an article in the local paper how everyone in town is concerned about the lagoon silting up. The Army Corp of Engineers completed a $1.x MILLION dollar study on the problem and concluded that, yup, the dirt is washing down the sides of the hills and ending up in the lagoon. A $XX.X MILLION dollar solution was suggested. No word on if it is going to be implemented. Well, folks, if you have a body of water that has dirt flowing into it and no adequate flushing action, the body of water is going to silt up. There's just no way around it.

It really isn't surprising that folks are concerned because with the silting up and low tide, the lagoon really isn't useable.
I was amused, however, to discover that the entry to the coastline of the lagoon is through the Bolinas Rod & Yacht Club. Isn't it just a tad pretentious for a hippie dippy town to have a YACHT club??

No, wait .. I got it ... it's sarcasm. :-)
But the icing on the cake was this display in a front window.
Close this window (or tab) to return to the main Samuel P. Taylor adventure page