Point Reyes Lighthouse to Bear Valley earthquake trail
22 miles and 54 minutes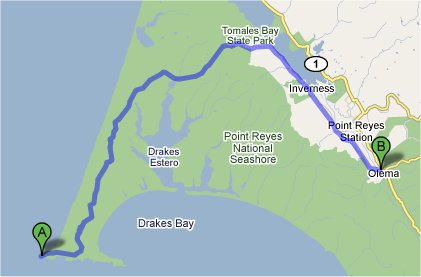 Since the San Andreas fault runs, literally, right up through Bolinas Bay to Tomales Bay, you can't be on the Point Reyes peninsula without going to the Bear Valley Visitor Center, which has the Earthquake Walk.
At the point in time when the significance of the 1906 earthquake was understood, geologists (and other scientists) discovered an incredible, physical display of the earth's power in the Point Reyes peninsula.
One of the most dramatic, physical demonstrations was the rupturing along the San Andreas fault.
A visitor-friendly earthquake walk was developed to the exact spot as shown in the picture on the left.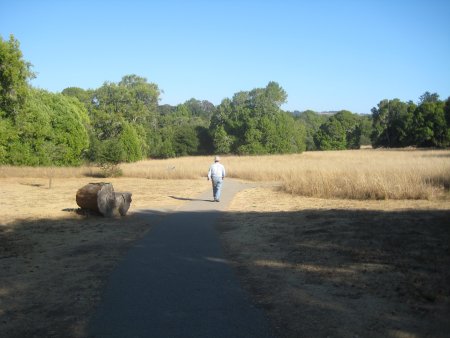 THANK GOODNESS the terrain is semi-flat. I don't think I could have survived anything more strenuous.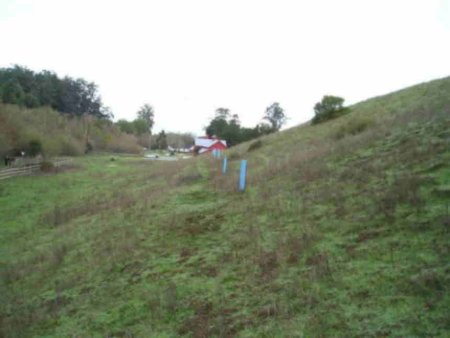 It wasn't very long before we rounded a curve in the trail and were upon the spot where the ground rupture photo was taken. In the photos above, the actual San Andreas fault is marked by blue posts. In my photo, I've also drawn a dashed line from post to post, since I couldn't get the same perspective as the professional picutre. My own photo (on left) isn't as good as the professional one (on the right).

One of the informational signs along the trail also showed where the San Andreas fault lies, looking from north to south.

But the real goal of the walk was to actually SEE the fence that was split apart by the earthquake! And there before us, in all its glory was the ..... (reconstructed) 1906 era fence! Not nearly as old as I expected, but then, I do suppose they had to repair/restore it occasionally to keep it from disintegrating. I had Mr. Pirate stand at the far side (left photo), to show perspective and another shot, straight on (on right). The red arrow shows the same distance in both photos, just from different perspectives.

By then, it was approaching late afternoon and we were getting hungry. We had been advised, back at the Papermill Creek Saloon that the Coast Cafe in Bolinas had killer crab cakes .. and we were eager to sink our teeth into them!
Close this window (or tab) to return to the main Samuel P. Taylor adventure page