Kehoe Beach to Drake's Bay Oyster Farm
9 miles and 21 minutes
Formerly called Johnson's Oyster Farm, this small business is situated at the north end of Schooner Bay in Drake's Estero. Like pearls from oysters, they actally plant and farm oysters here.

From the company brochure:
"The tidals waters of Drake's estero nurture a shellfish highly prized by local seafood lovers - the Drake's Bay Oyster. The oysters are grown and harvested here by Johnson Oyster Company (now Drake's Bay Oyster Company) under a special agreement with the California Department of Fish & Game, and the National Park Service.

The oysters grow on wire "strings" hanging from wooden platforms.

Here they receive hutrients carried in by the tide and are protected from starfish, crabs, stingrays and other enemies that lurk on the bottom.

When the oysters are mature, oystermen collect them on flatboats and bring here for shucking, canning and marketing."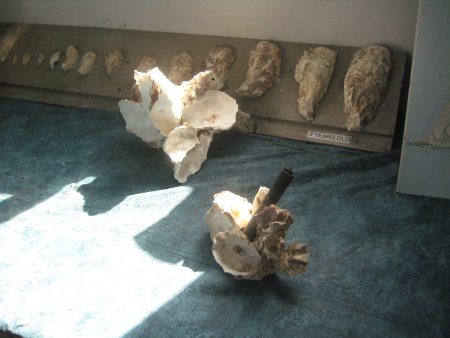 Inside the "store", there was a nice display of the size of the oysters as they grow.
They did have oysters, in various forms, for sale, but Mr. Pirate & I don't do oysters. Ick.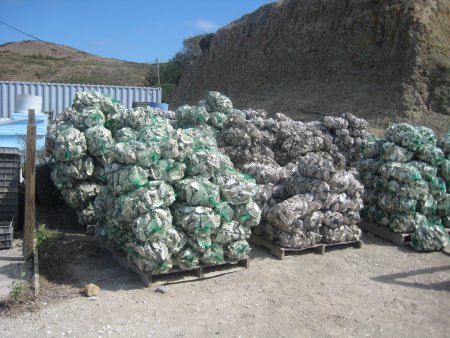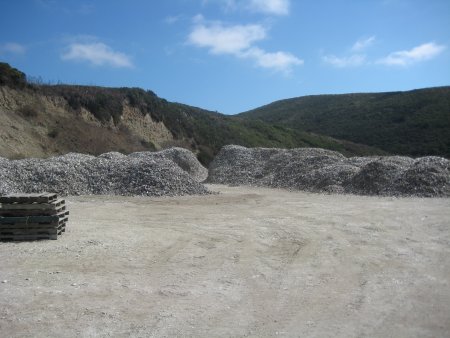 Outside, they had oyster shells, drilled & bagged, ready to be strung and then MOUNDS of shells, waiting to be drilled and bagged.
Close this window (or tab) to return to the main Samuel P. Taylor adventure page