Old Ship Saloon
Pacific and Battery

The Old Ship Saloon saga began in December of 1849 when the Arkansas, a three-masted boat, sailed into San Francisco Bay. A storm blew the Arkansas aground on Alcatraz Island. The ship was towed into Yerba Buena Cove, set on the beach at what is now the corner of Pacific and Battery and was deserted by her gold-seeking crew.
In 1851, the owner cut a door into the side of the Arkansas' hull, ran a gangplank from the newly cut door to the Pacific Street pier and converted it into the Old Ship Ale House. Libations were sold for 25 cents each.
By 1855, construction of warehouses, businesses and landfill up to Front Street had locked the ship in place and a sailors' rooming house had been constructed on its deck. Think of it ... amidst the conventional buildings, a ship's prow protruded into the street! The remains of the Arkansas are still buried under the saloon and in the adjoining parking lot.
In 1859 builders dismantled the above-ground portion of the ship and constructed a brick hotel for 22 residents on the site. A barroom on the ground floor of the hotel became The Old Ship Saloon.
Until the turn of the century, The Old Ship Saloon operated as a sailors' tavern and shanghaiing den. Many a sailor drank drug-laced liquor here and found himself on an unintended voyage. It was here, and in countless other boardinghouses along the waterfront, that seamen were drugged or simply knocked out and delivered, for a fee, to waiting ships. They generally recovered consciousness somewhere out at sea, often literally on a slow boat to China. This practice is described in detail in Bill Pickelhaupt's book Shanghaied in San Francisco.
In 1897, Henry Klee (who's name until recently could still be seen on a painted sign near the roofline) purchased the business, but the 1906 Earthquake and fire tumbled part of the brick walls to the street. It was then rebuilt and finished in 1907. In the 1940's a brothel upstairs entertained a steady stream of GI's before they left for the Pacific during World War II.
Mr. Pirate and I had lunch there; I, the tomato-basil soup and Mr. Pirate the mushroom burger .. both were very tasty. Upon exiting the building and looking south down Battery towards Market, happened to look UP and saw an amazing graphic formed by the rooflines of the skyscrapers. It very well may appear in a quilt. :-)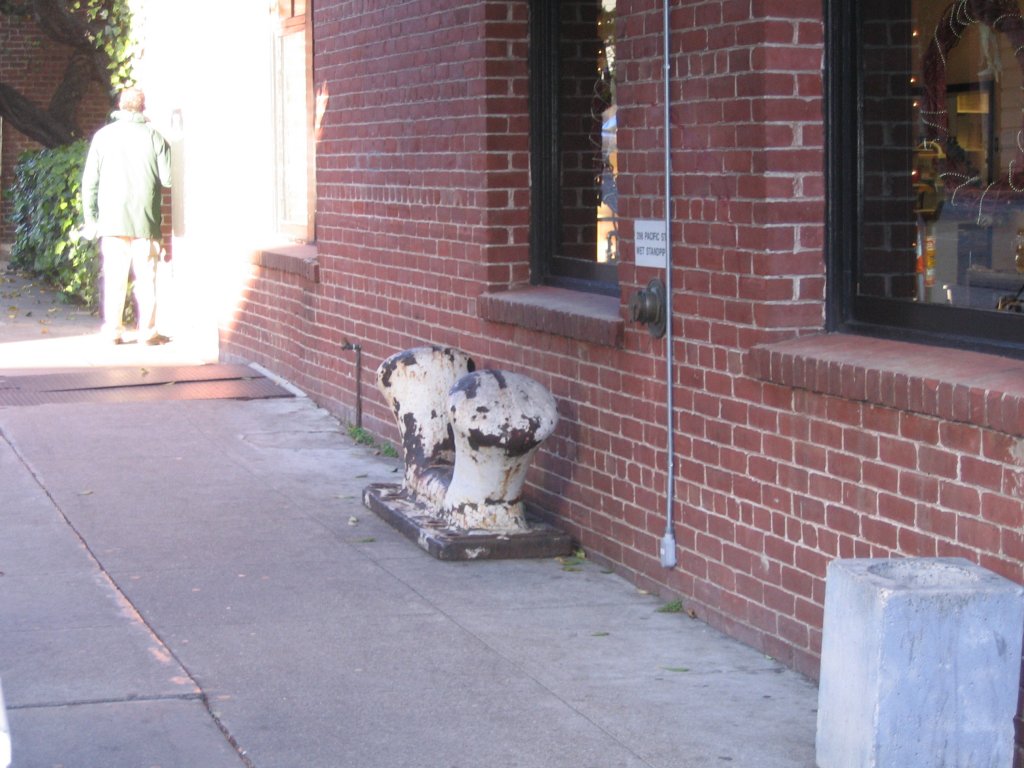 On the Battery Street side of the building, an old mooring hitch sits on the sidewalk. It can also be seen in the picture at the top of the page. Where the mooring hitch came from is unknown but it does add a certain ambience to the site. :-)